Celebrate Floral Design Day on February 28th 2021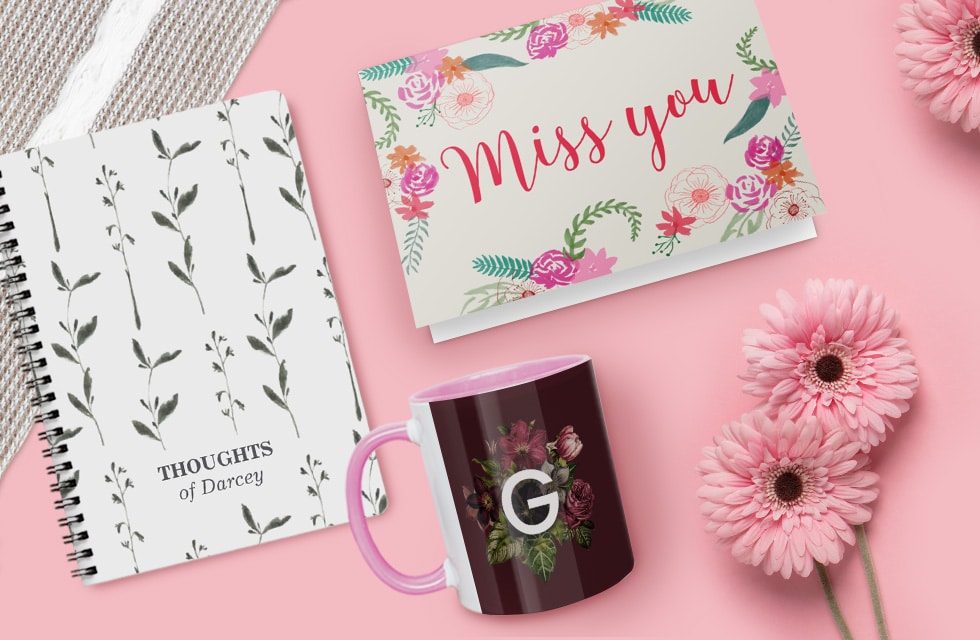 Let's show some love for all things floral this month in honour of Floral Design Day!
Floral prints are a great way of bringing the outside world in, and what better way to celebrate all things natural than on a personalised gift you can treasure all year long?
Our favourite, the rose, remained the most popular flower in 2020, and we saw a rise in the popularity of cherry blossoms and daisies. Whether you're eco-conscious with a love of all things simple and sustainable, or a fashion-forward thinker that craves bold statement designs, 2021 is set to be a year of inclusivity. Discover some trends below to make sure your home is blooming with this year's trendiest florals.
Soft Neutrals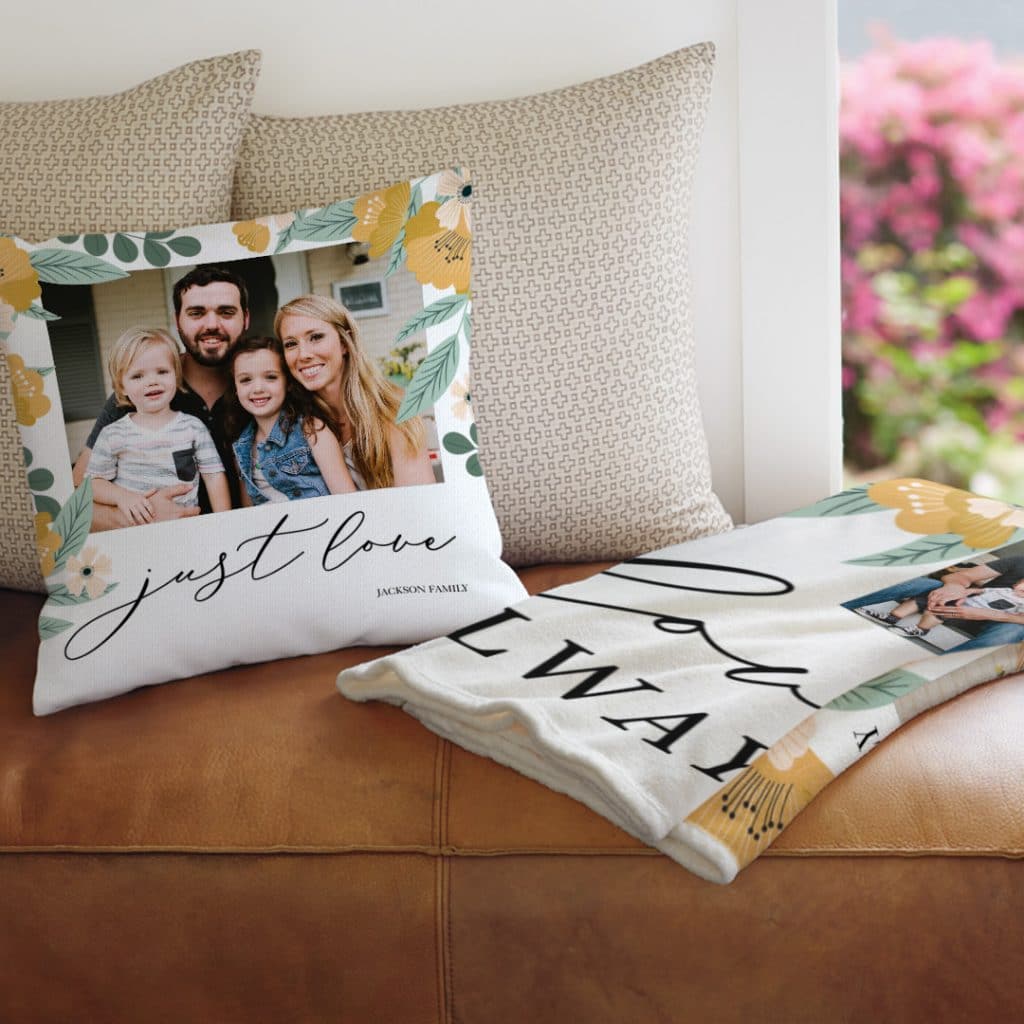 This year, expect to see a shift toward neutral shades, with soft colour palettes and natural earthier tones, as people are increasingly recognising the need for sustainability and organic products. Neo-mint is a colour that trend forecaster WGSN predicted would dominate interiors in 2021 and is described as an "oxygenating, fresh tone". Our Folky Floral Collage canvas print will set the tone with bright and cheerful family photos. Or, you could add floral accents to your bed or sofa with this delightful Folky Floral Fleece Blanket. (We also have matching cushion designs!)
1970s Inspired Psychedelics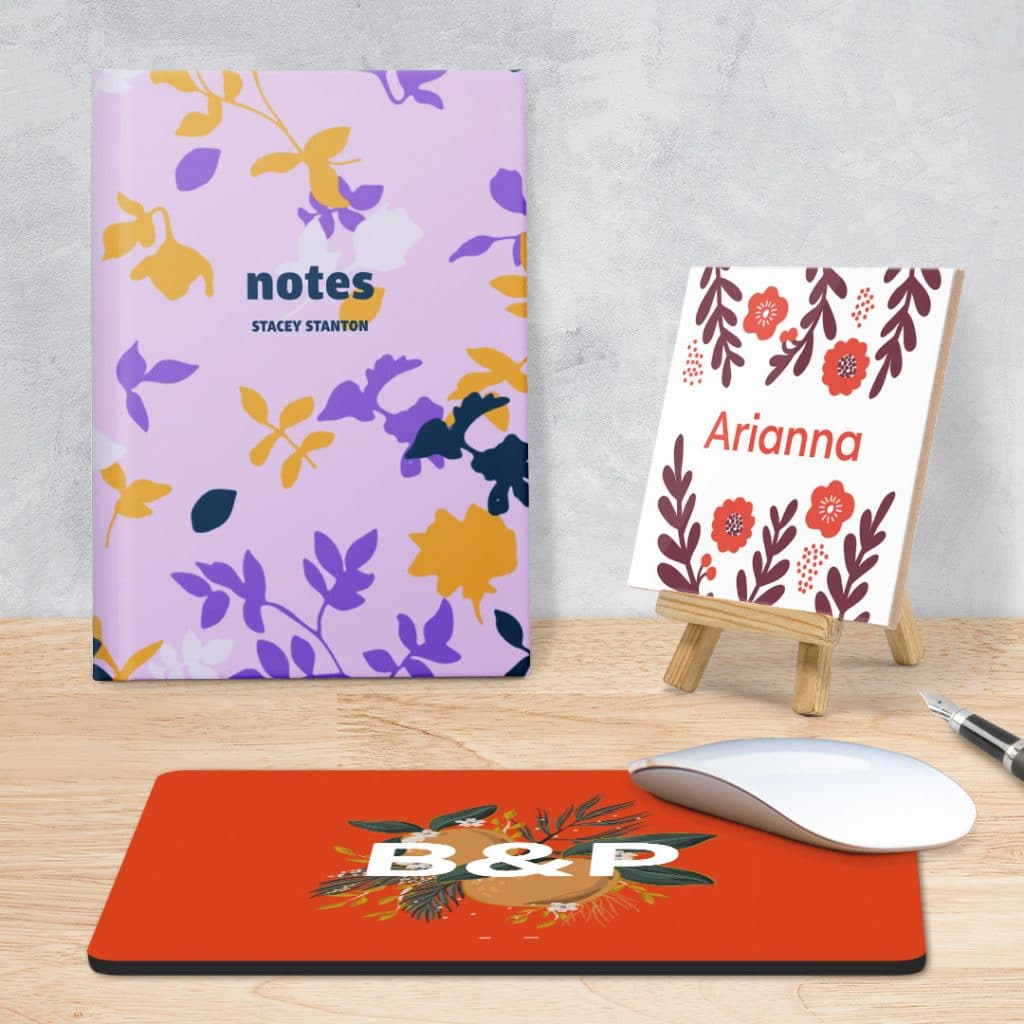 At the opposite end of the style spectrum, psychedelic colour palettes are another top trend that's set to take the design world by storm in 2021. Inspired by colourful prints from the '70s, designers are looking to the decade of Flower Power with the resurgence of unapologetically loud colour combinations. Psychedelia will give your custom home décor and wall art an instant injection of personality and create a statement with a vibrant floral design. We love this Folk Floral Ceramic Photo Tile with Stand, and these Floral Cutouts Notebook and Apple Bouquet Mousemat designs (which definitely won't get lost on your desk).
Functional Flora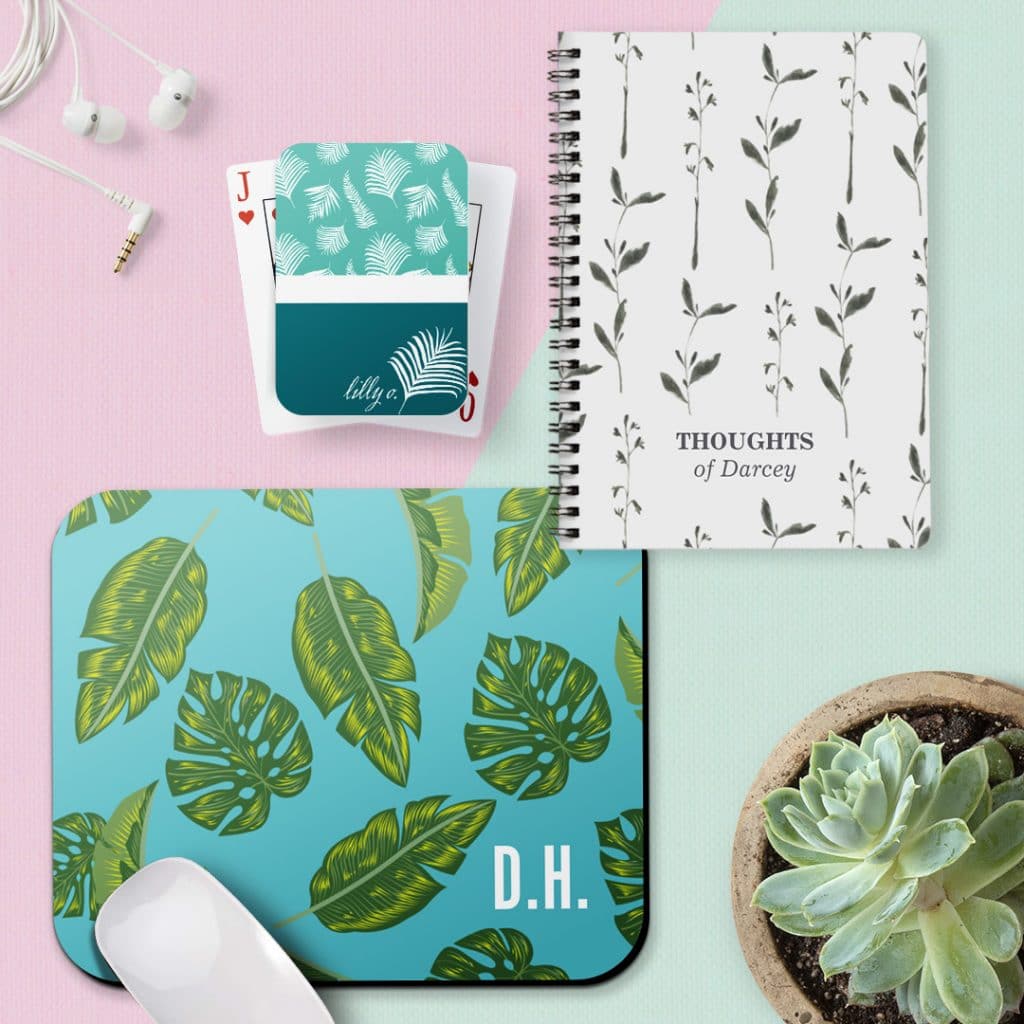 Mental health has been a central conversation over the past few months, and this is expected to continue into 2021. Green up your home with atmospheric leafy patterns. We love the Leafy Stems Notebook, and you can practically feel the island breeze with the Botanical Accents Playing Cards and Tropical Leaves Mousemat.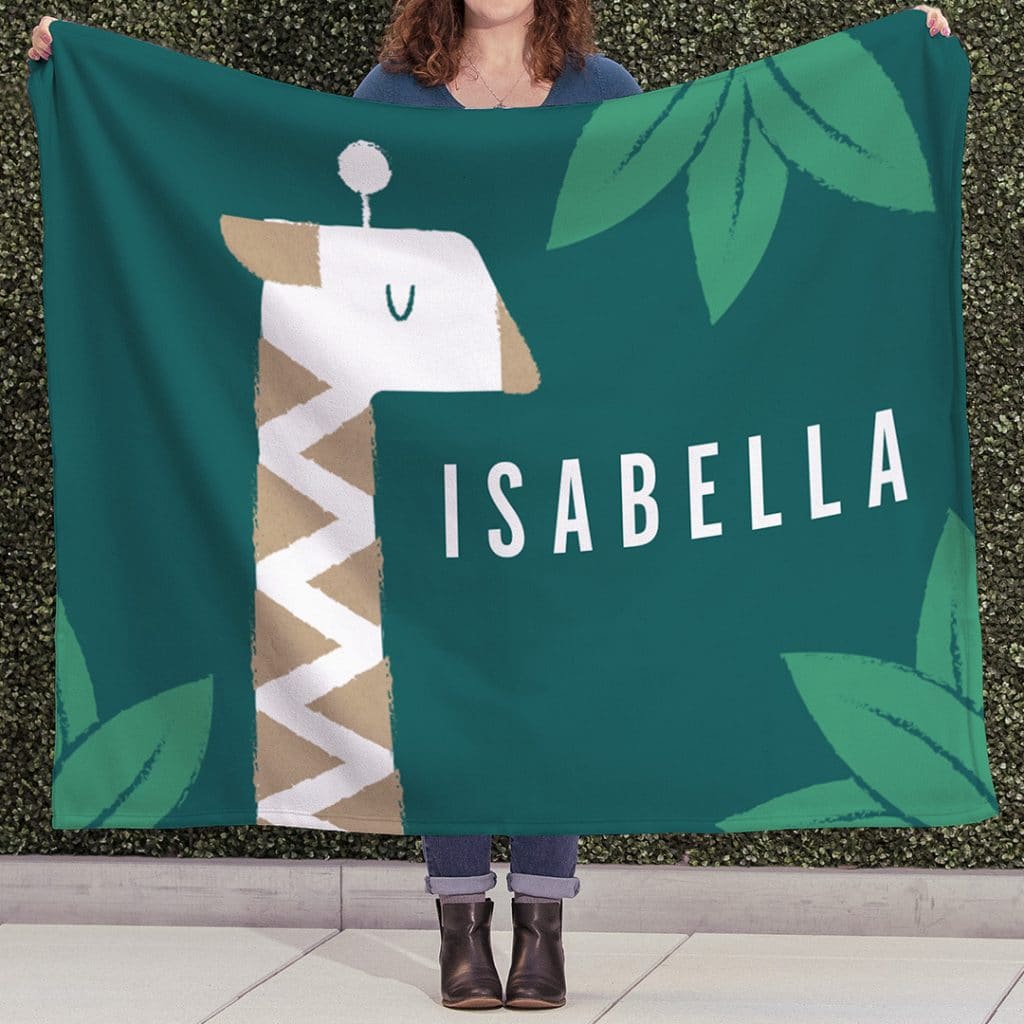 What about the kids? Throw in this adorable Wild Giraffe Fleece Blanket to give their room a wilder look.
Jewel Tones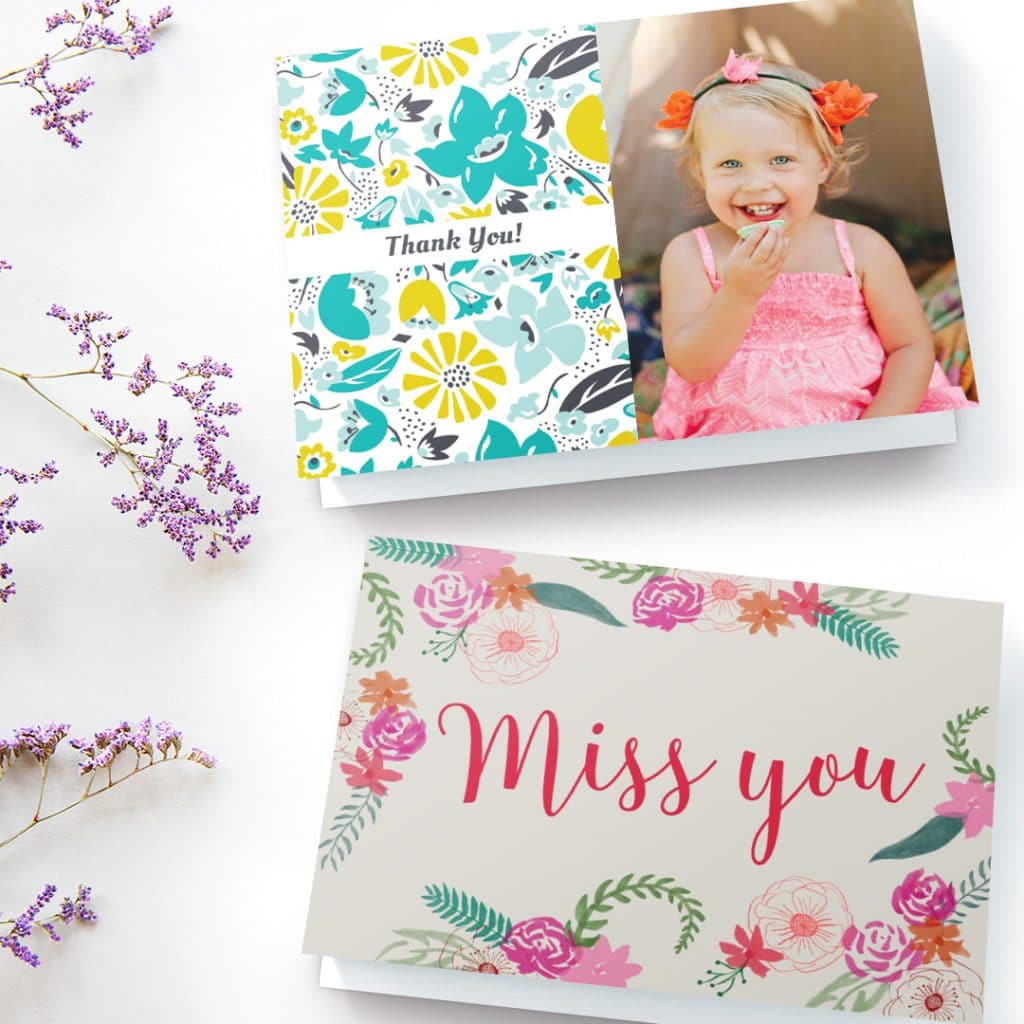 Go big with bold patterns that make a statement and bring a sense of play to your personalised products. Our Floral Miss You Card and Thank You Floral Card Designs are sure to make your friends and family crack a smile when they arrive in their letterboxes.
Minimalism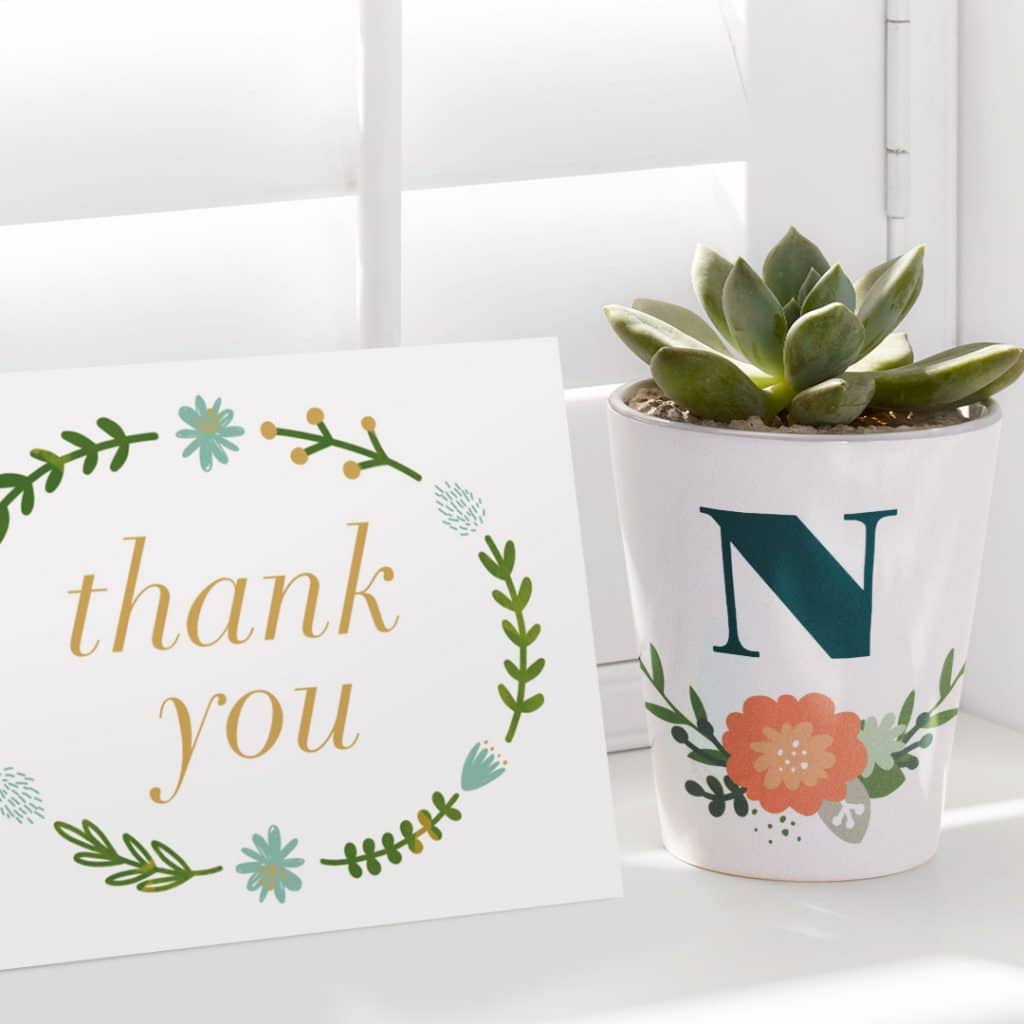 Simplicity is also a strong trend for 2021. Create products with striped back and minimalist layouts. Our Floral Monogram plant pot design looks incredible and will inspire you to grow your own plants in this lovely Plant Pot. And remember to pair your gift with this simple In Bloom Thank You notecard sets.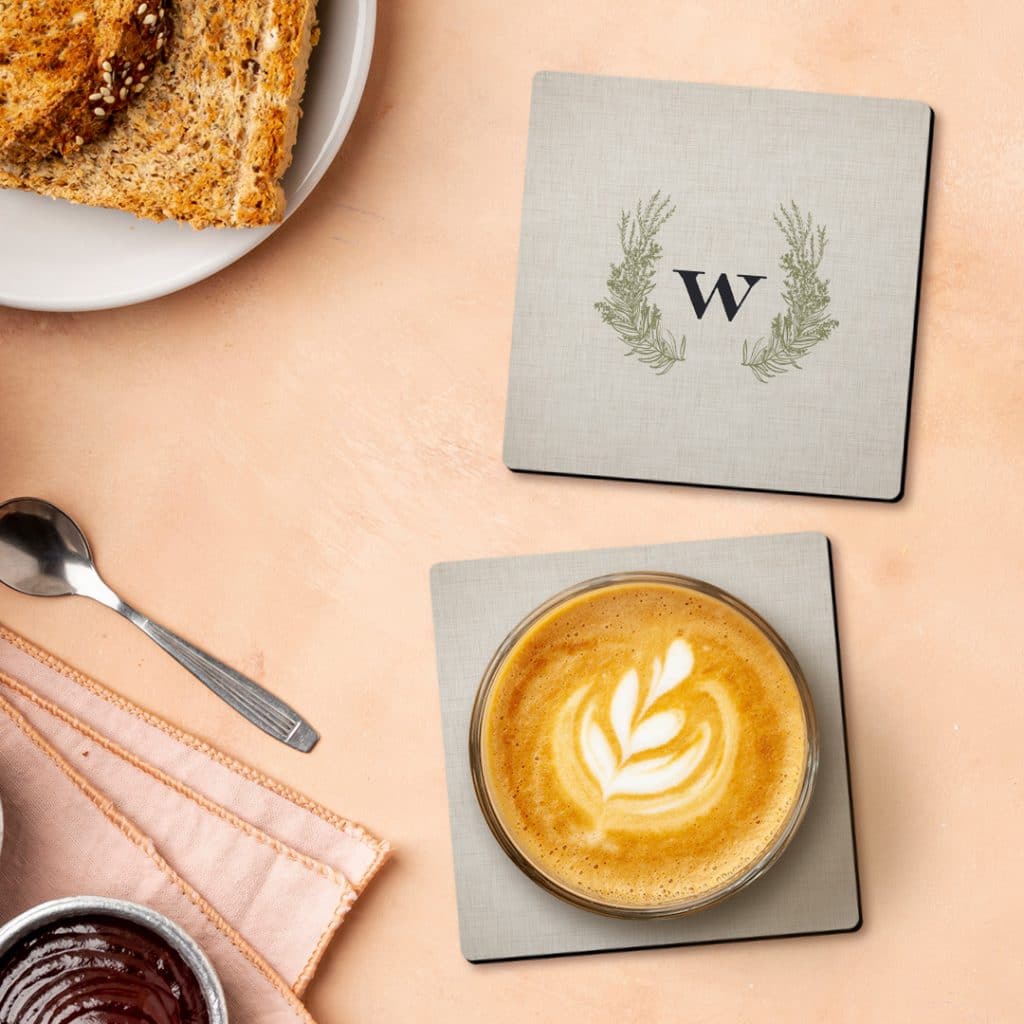 Don't forget to protect your delicate surfaces with this chic and timeless Laurel Linen Custom Coaster design!
Fabulous and Fragrant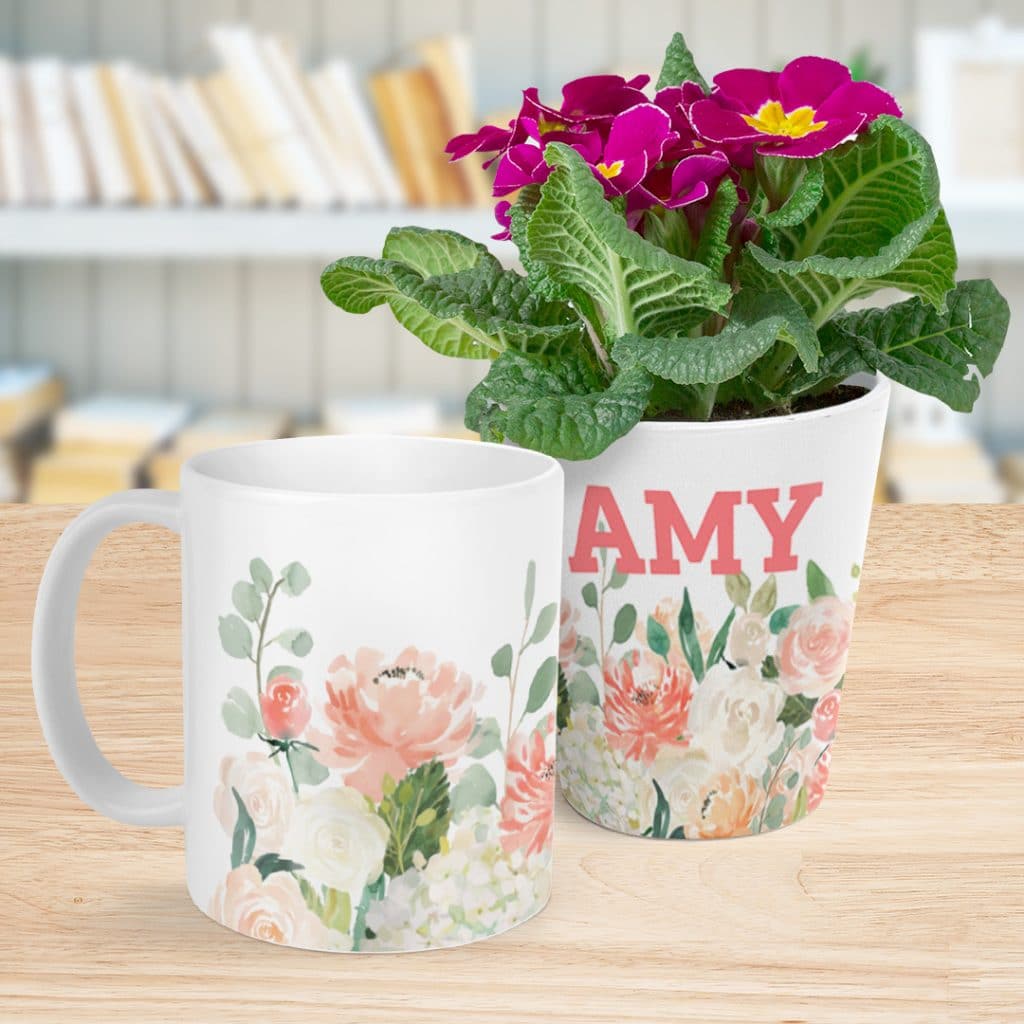 While you can't print actual floral fragrances, incorporating visuals that invoke and recall floral scents will instantly boost your mood. (Think freesia, lavender, sweet pea and lilac.)
With our Peachy Florals Mug design, you'll almost be able to smell the blooms every time you take a sip. (Top Tip: Create this as a Magic Mug and add extra smiles to their day!), or grow your own fragrant flora in our adorable Hidden Bouquet Plant Pot.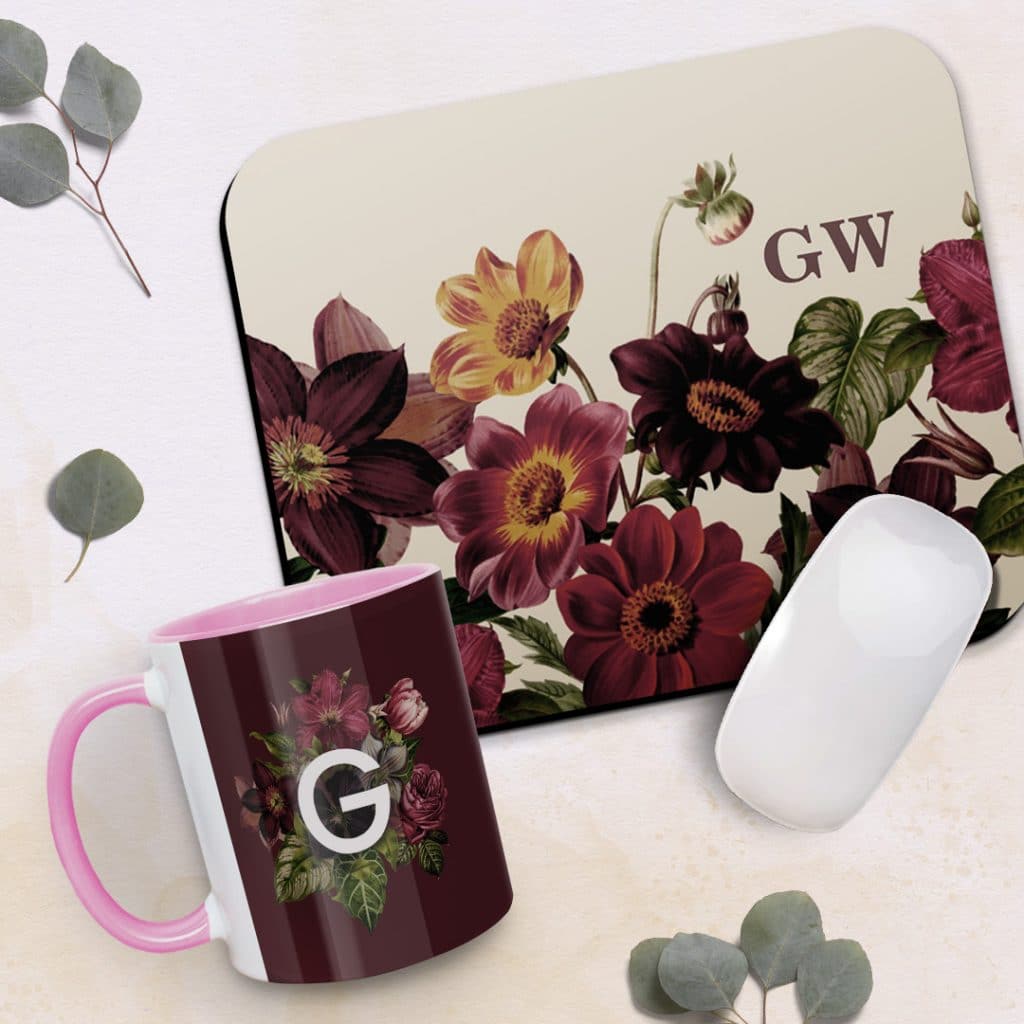 Check out our Vintage Bouquet personalised gift range for a stronger statement. We love this Floral Mousemat design and recommend pairing it with a Romantic Bouquet Coffee Mug, perfect for those discouraging, 'stuck working late' moments.
It's oh-so easy to create impressive, floral-inspired custom gifts using our simple-to-use builder and design tools. Make them for yourself, or send some joy to loved ones.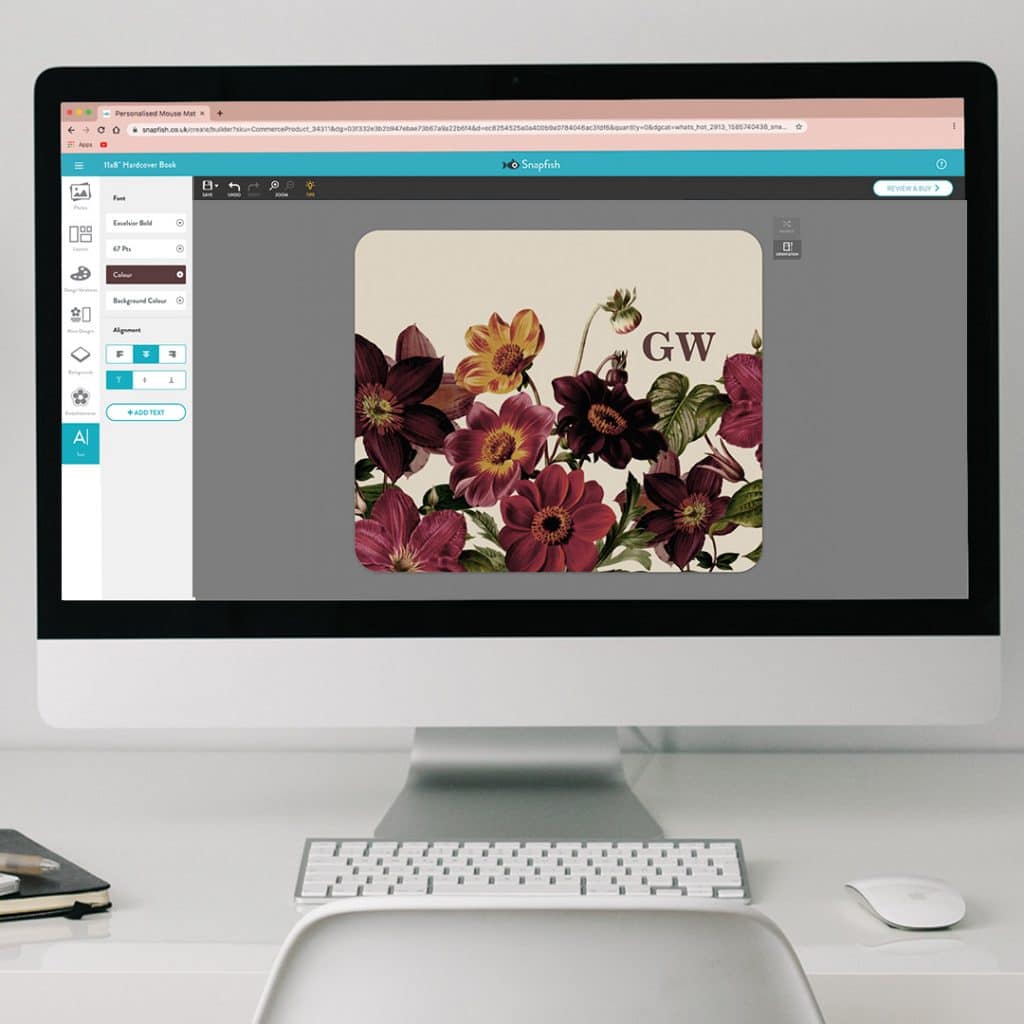 You can add text, floral embellishments and change background colours to suit your personal taste. You'll find our favourite floral embellishments under Embellishments > Themes > Natural Botanics, and Embellishments > Themes > Handpainted S. (Or just type "floral", "flowers", "bouquet" or "botanical" in the top search bar. All your selected embellishments will be shown in the left hand bar under 'Recent'.)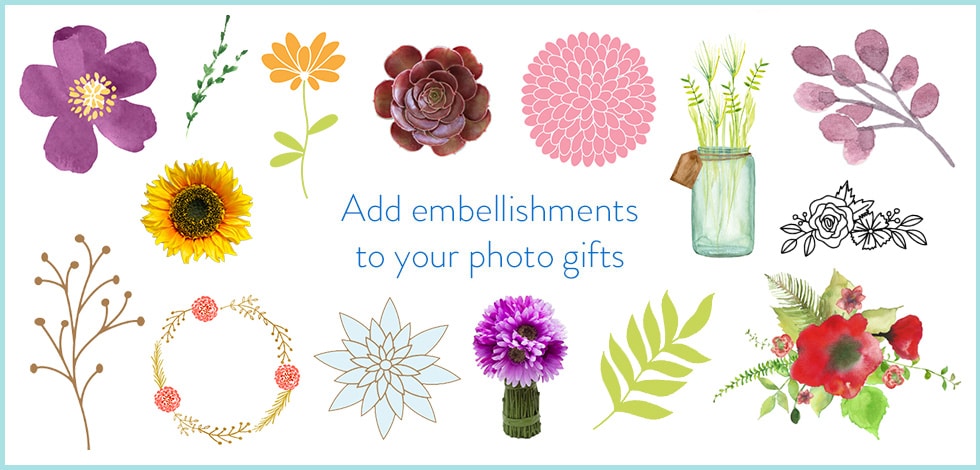 Did you create any floral-inspired personalised gifts? Be sure to share your masterpiece with us on social media! You can tag us with @snapfishie in your photos on Instagram or Facebook or use the hashtag #snapfishie. Don't forget to follow us on YouTube, Twitter and Pinterest, too. Check out the Snapfish site for even more wonderful products.