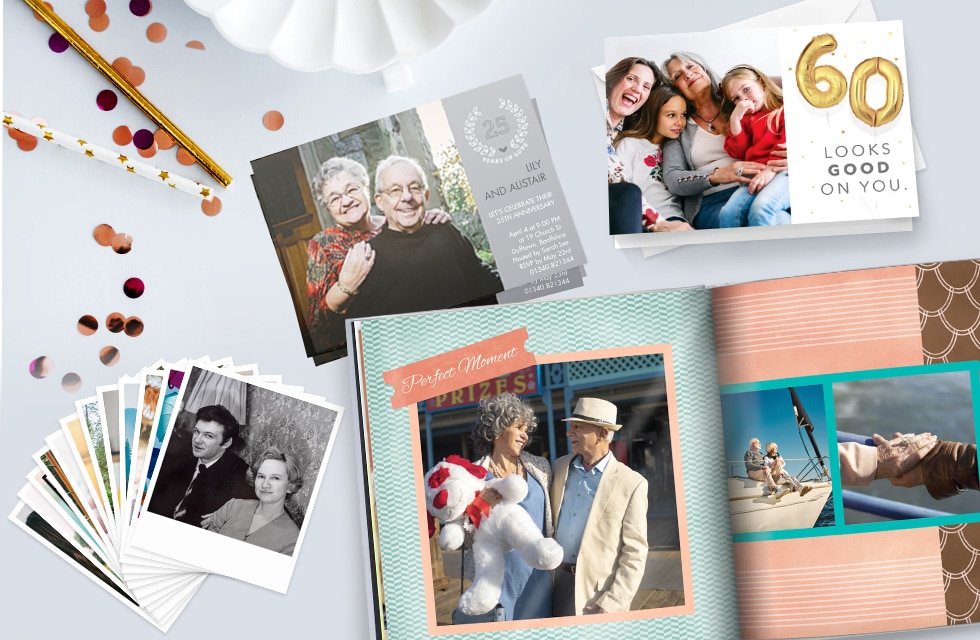 This year, many people will be celebrating big milestone birthdays and wedding anniversaries. The pandemic was a difficult time for everyone and now that restrictions have lifted and a sense of normality has re-emerged, lots of us are determined to make the most of the present moment and savour quality time with friends and family.
Celebrations now carry more weight and meaning than ever so why not take the opportunity to honour every occasion with zeal and style! Whether it's an 80th or 100th birthday party, 25th, 50th or golden wedding anniversary, we've got some truly unique and fun ideas on how you can commemorate the special occasion.
Party Invites + Announcements
Personalise the front and back of your card with unique messages to make stylish announcements and invitations that will get your guests excited for the event.
Birthday Cards
Personalise the front, back and inside of your folded milestone birthday card and let it be as original as the person on the receiving end!
Photo Books
Create an expansive book of memories (ideally with some fun old photos, such as pictures of the couple or individual taken over the last few decades, or even their childhood!), as well as a book of the party or event itself. Print out multiple copies and share these with loved ones.
Canvas & Framed Prints
Use our fun collage print layouts and personalise your print with a charming mix of old and newer pictures.
Chopping boards & Pint Glasses
Create custom party decor with custom chopping boards for your charcuterie, cheese, nut, veggie and fruit spreads. Personalise some pint glasses for the guests to use during the celebrations and even take home as a party favour!
Retro Prints
Use scans or photos of old snapshots and portraits of the couple or individual as party decorations (hung on wires with clips or spread out on tables). You could also take lots of photos of the celebration itself and turn them into retro prints for yourself and guests that attended.
Need more milestone gift and decor inspiration? Check out our GiftFinder. Simply indicate your budget, the occasion, how much time you have and how many photos you'd like to use and we'll suggest the ideal photo product for you!
We can't wait to see how you celebrate with loved ones!
Don't forget to tag your photo stories on Facebook, Instagram or Pinterest with @snapfishIE and #snapfishie. We love seeing what you create.