Decorating the Christmas tree is one of the most fun and family-friendly activities on the Christmas calendar. This year, why not create personalised glass ornaments that will transform your Christmas tree into a dazzling and sparkling centrepiece. You can customise your glass Christmas ornaments with family photos, sweet sentiments, and festive embellishments. Glass photo ornaments also make impressive and unique stocking stuffers and Christmas gifts, or even as heart-warming party favours after a social gathering with family and friends.
Your Custom Glass Ornament Options
Square Glass Tree Decoration
Hexagon Glass Tree Decoration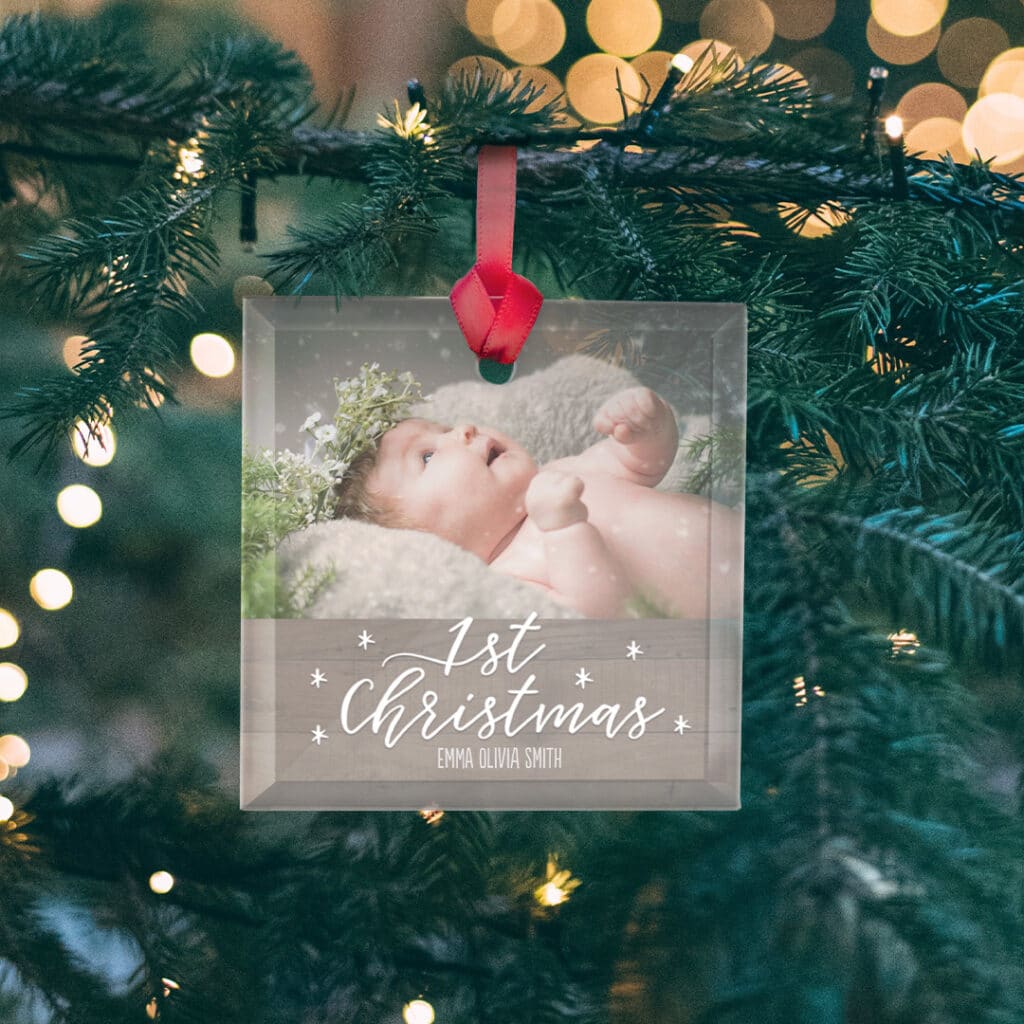 Custom glass ornaments are perfect for commemorating all types of family milestones. You can create custom "Our First Christmas" or "Baby's First Christmas" keepsakes, our "first married Christmas" ornaments, and add to your collection year after year to create one-of-a-kind Christmas trees that will make the festive season feel extra special.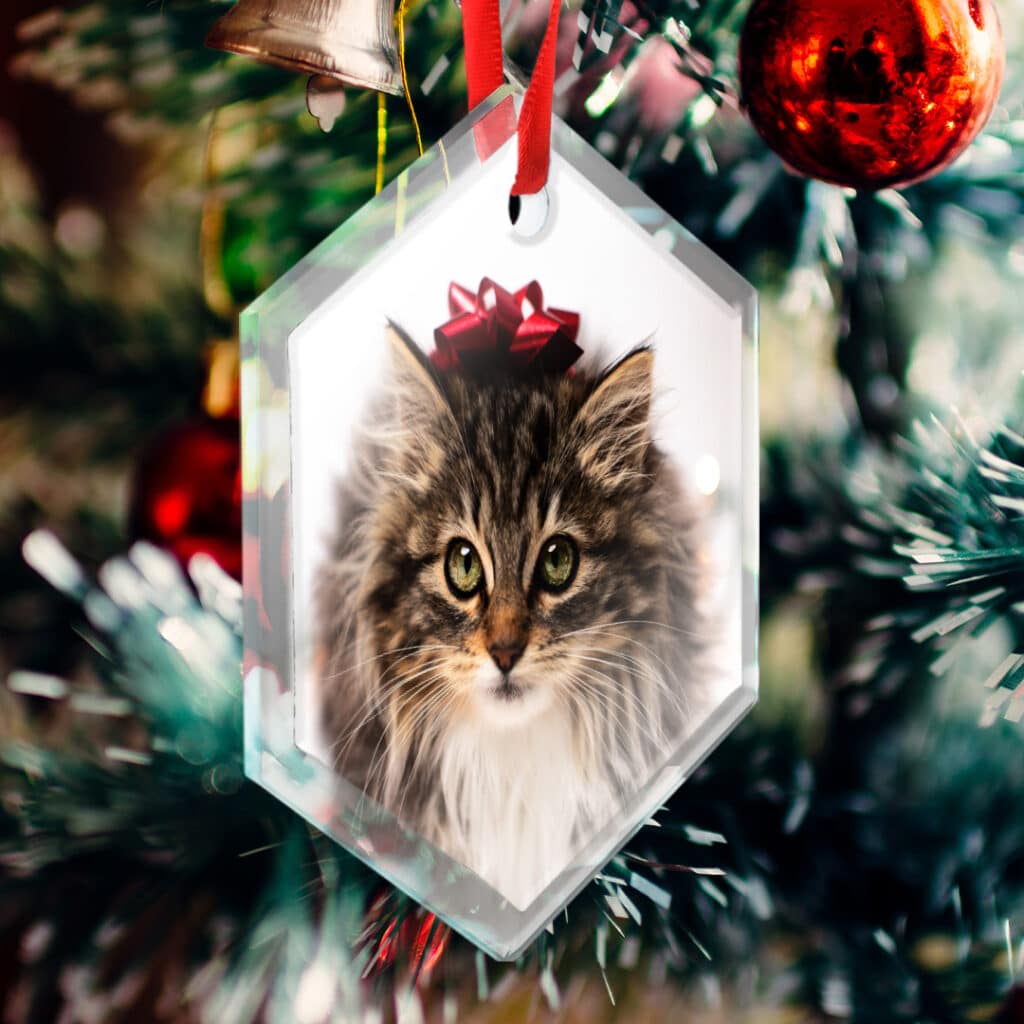 Snapfish Glass Tree Decorations are delivered ready to hang with a charming red ribbon, with a front that features smooth bevelled edges. The photo is digitally printed on the reverse side of the glass, visible from the front.
Measuring 7.6cm (3″) in width, the versatile glass ornaments will look wonderful on any type of Xmas tree, from traditional to modern, multi-coloured to mono-styled.
Consider tying a glass ornament onto a Christmas stocking (or Santa Sack) so everyone can recognise where their presents are on Christmas morning, or use them as original gift tags for your loved ones!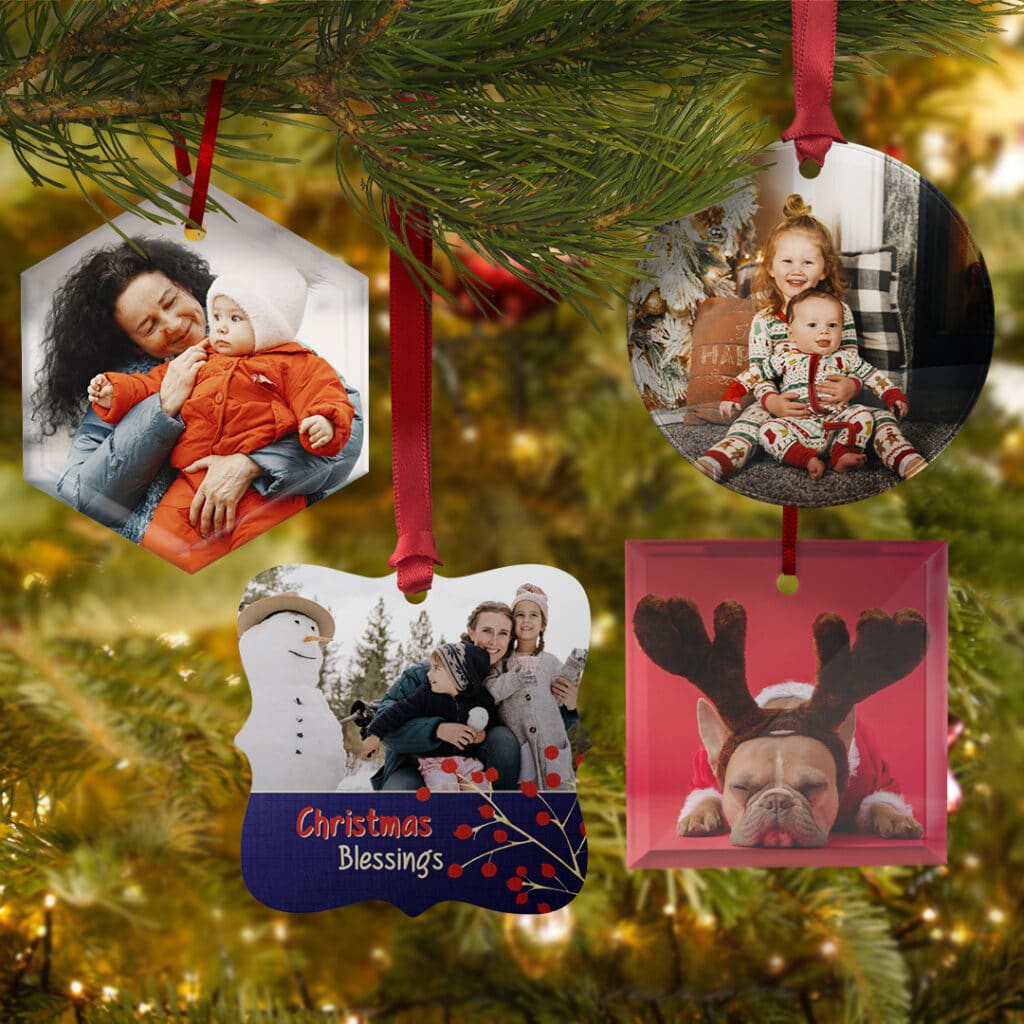 Why not mix-and-match your glass tree ornaments this year with one of our other personalised tree ornaments? You can create one-off designs, or build a set over time. It's easy to add fun to your custom creations with adorable photos of the family pet, or upload scans of the kids' artwork and memorabilia to make the perfect keepsake ornaments that can be treasured on your Christmas tree for years to come.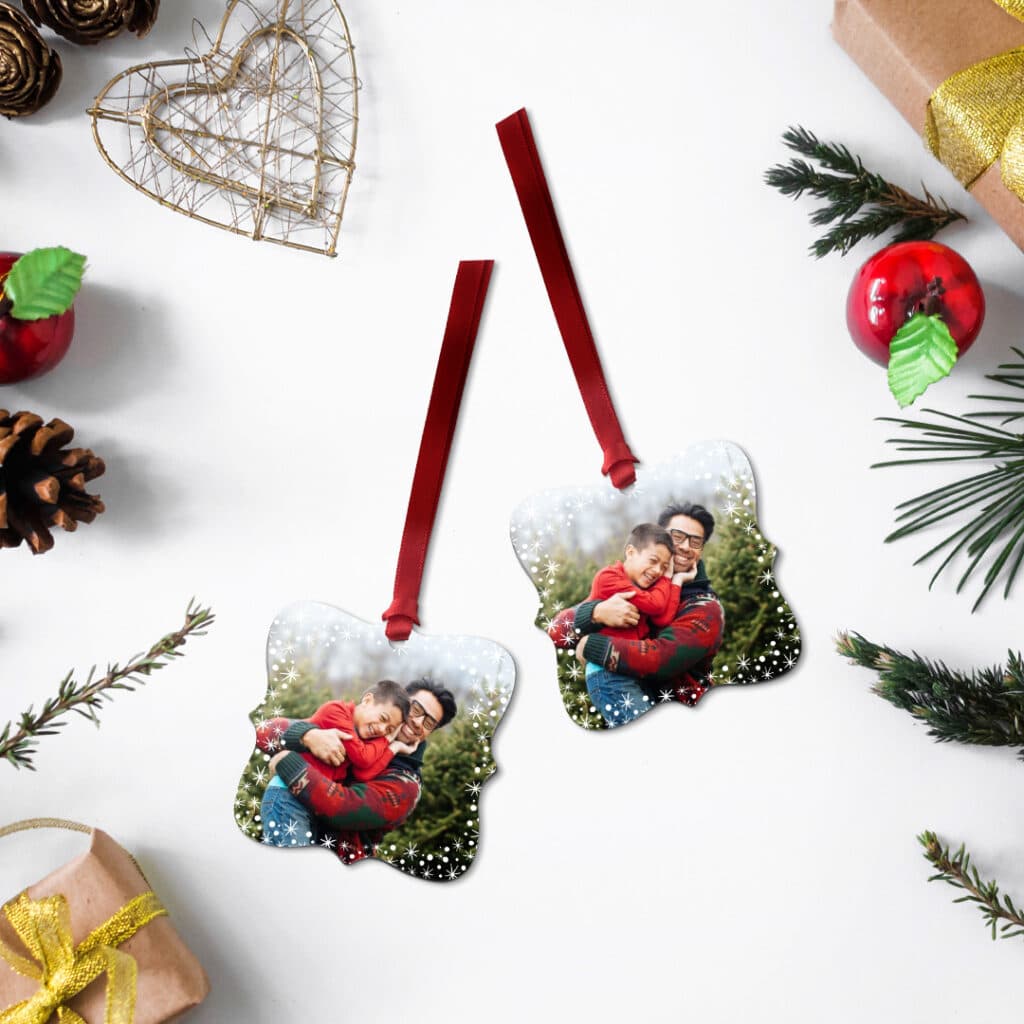 If you are looking for a slightly smaller ornament, then look no further than our Square Aluminium Christmas Ornament. Measuring 7.5cm (3″) x 7.5cm (3″), this brushed aluminium tree ornament comes as a stylish square which you can personalise on one side with photos or text while the brushed metal reverse twinkles next to the fairy lights on your tree.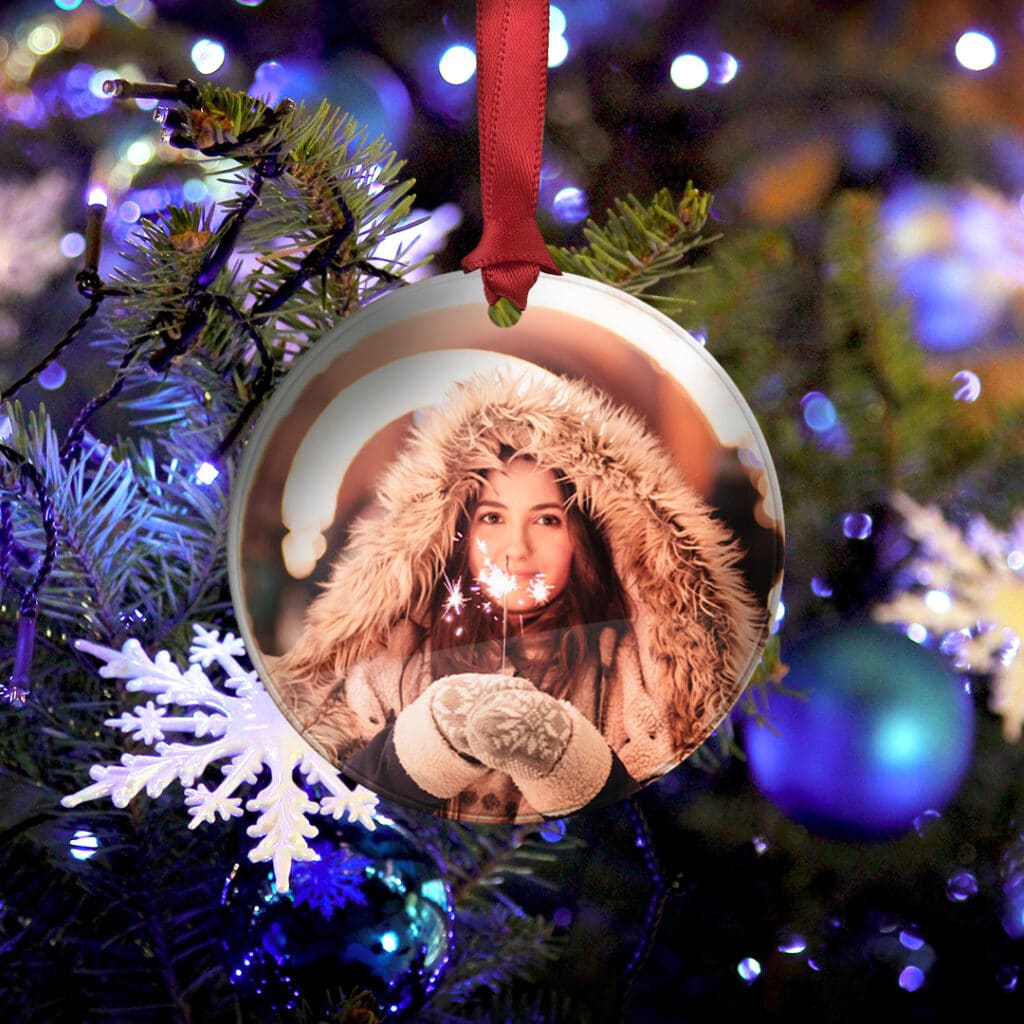 If you are looking for a vibrant ornament style, our Round Acrylic Christmas Ornament doesn't disappoint. This lightweight acrylic flat ornament has a glossy front and matt reverse and you can see your image from both sides. Delivered ready to hang with a festive red ribbon, the acrylic tree ornament measures 3×3" (7.5cm x7.5cm).
Browse all of our personalised ornaments and baubles here to create a delightful mix of styles and shapes.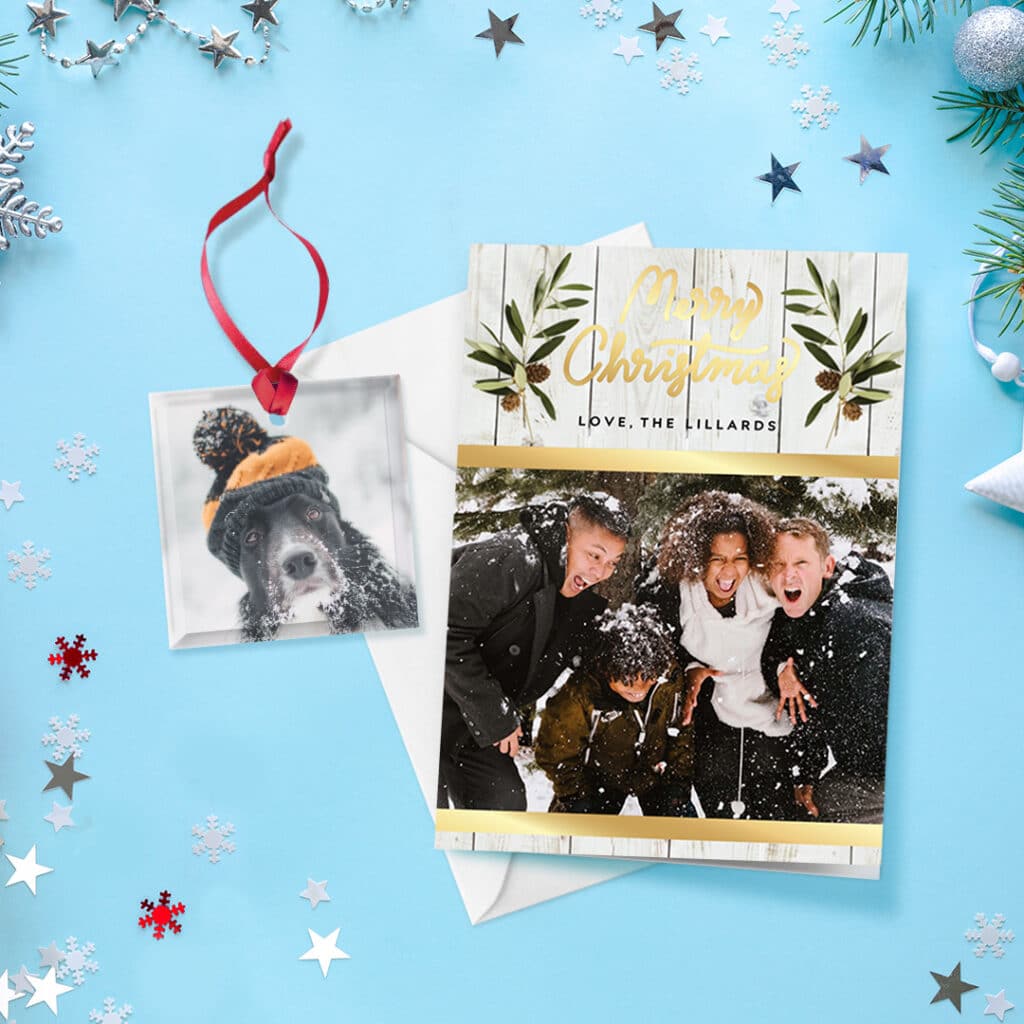 If you're giving a glass ornament as a gift, don't forget to include a beautiful and thoughtful Christmas card! Browse our wide range of custom Christmas cards here.
Don't forget to tag your photo stories on Facebook, Instagram or Pinterest with @snapfishIE and #snapfishie. We love seeing what you create.