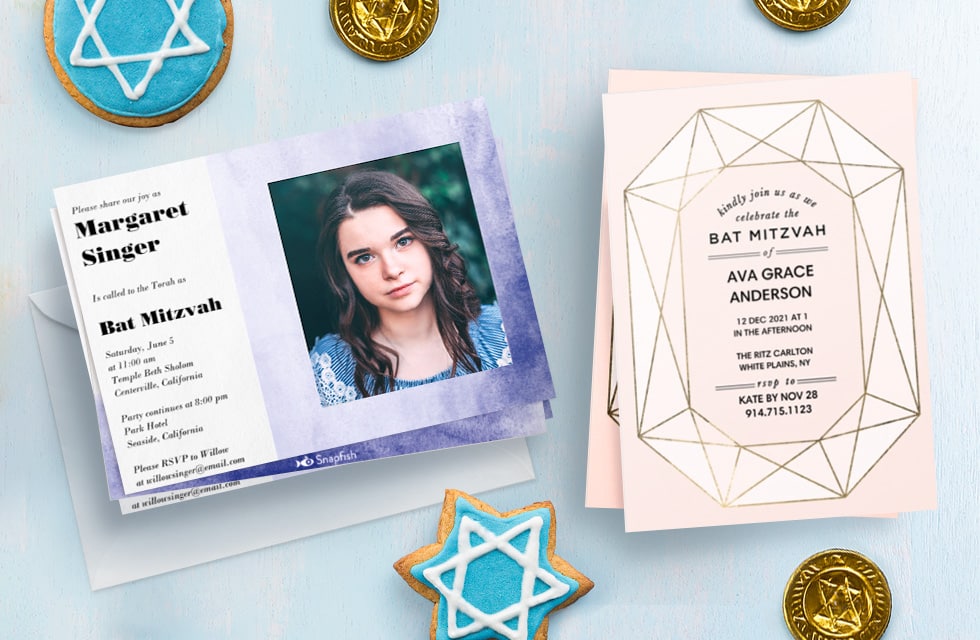 Celebrate this extremely important and joyous milestone with unique, personalised bar and bat mitzvah invitations. A beautiful custom card design and thoughtfully-written invite will inspire all guests and get them excited for the event.
So what should you write in your bar mitzvah invite or card? From short and sweet to funny and uplifting, we've put together this helpful list of ideas for invitation wording. These will also make the young ones being celebrated feel wonderful and ready to enter the next phase of their lives!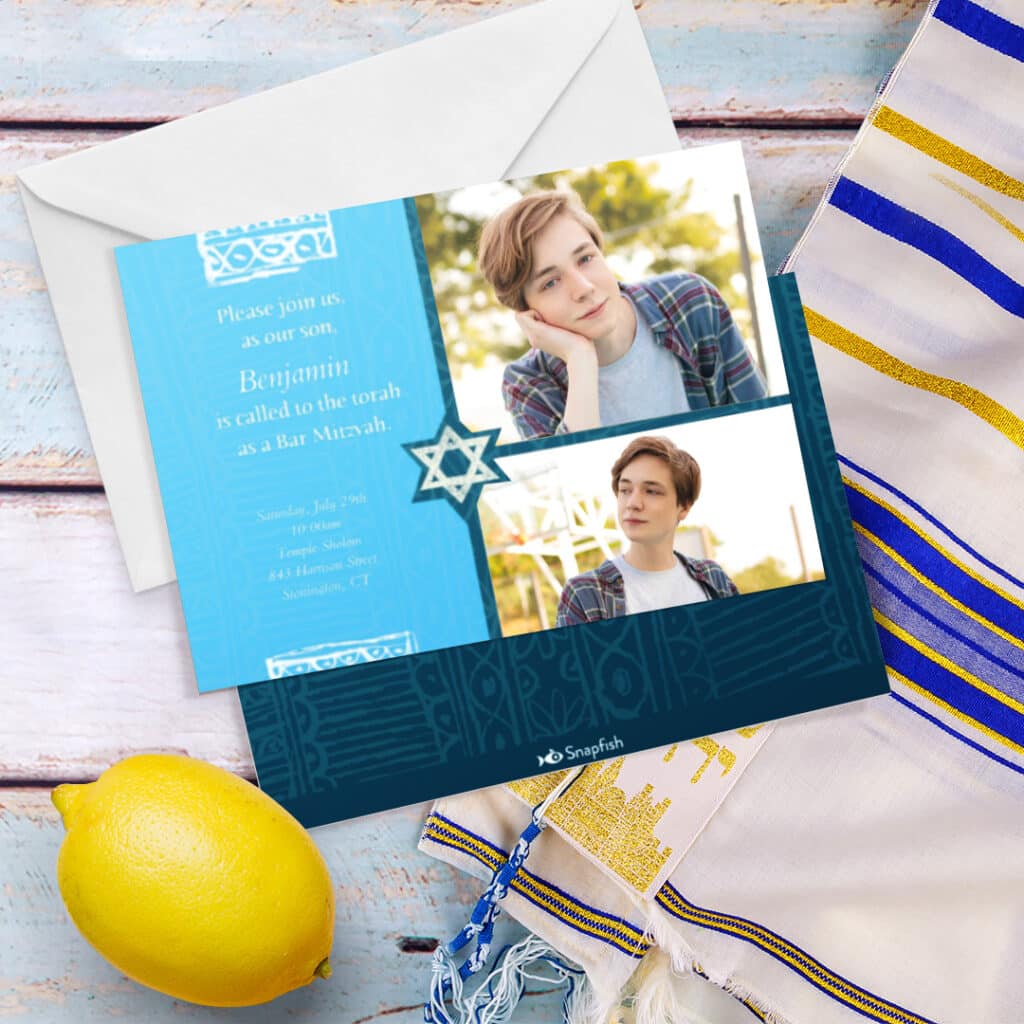 Share key details about the day, including:
The name of the adult-to-be. Make the name stand out with a large and/or bold font. Feel free to include their middle name, too, if you like!
Parents' names.
Ceremony information. Share the date, time, and location of the Torah-reading locale. You can even add a few additional details, such as parking info and which entrance to use. (You'll want this part to be as clear as possible, especially for elderly relatives!)
Reception information. If you plan to continue the bar and bat mitzvah celebration at another location or the parents' home, include the event's specific start time and address. If you're only inviting close family and friends to the after-party, consider sending out two versions of the invitations.
Dress code. Whether you're going formal or more casual, it's helpful to include a dress code in your invitations to inform your guests well in advance of any clothing requirements or restrictions, particularly if they're non-Jewish!
RSVP request. You'll most likely need to inform your venues and catering service of the number of guests attending the celebration. As such, be sure to include a specific RSVP response deadline that's three to four weeks before the event. This will give both you and your guests time to stay organised!
Examples of Bar / Bat Mitzvah invite wording:
"Mr. and Mrs. Eric Miller Invite You To Join Them As Their Daughter Abigail Is Called To The Torah As A Bat Mitzvah Saturday, December 17th at 10 a.m. Temple Emanu-El-Beth Sholom Celebration at 8 PM at The Ritz Hotel Please RSVP by December 1st"
"We invite our close friends and family To our home on the day of May 18th To celebrate our daughter Talia As she's called to the Torah Both the ceremony and reception will be held At 123 Marcil Avenue Please RSVP We hope to see you all there, wearing your best cocktail-hour attire"
"Mr. and Mrs. Goldmann invite you to join them as their son Nathan is called to the Torah as a Bar Mitzvah Saturday, the seventeenth of December at ten o'clock in the morning The Spanish & Portuguese Synagogue Celebrate with us at eight o'clock in the evening 28 St. James' Street RSVP"
"Samuel's becoming A Bar Mitzvah Join the Cohens as they Celebrate his 13th birthday May 12 at 10 a.m. Shaare Zion Beth-El Congregation Party at 7 p.m. 402 St-Luc Street New Haven Please Reply"
"Hosted by Mr. & Mrs. Adam Friedman Please mark this date for Isaac's bar mitzvah. We know these are unusual times, but we're hoping we can safely gather later this year. Saturday, December 4, 2:00 PM EST Congregation Shaar Hashomayim 512 North Avery Road Dublin, Ireland"
Here are some thoughtful, beautiful gift ideas you could easily customise for the adults-to-be
With a wide variety of sizes, layouts and embellishments for you to choose from, create a beautiful photo book that celebrates their personal journey, from childhood to bar / bat mitzvah.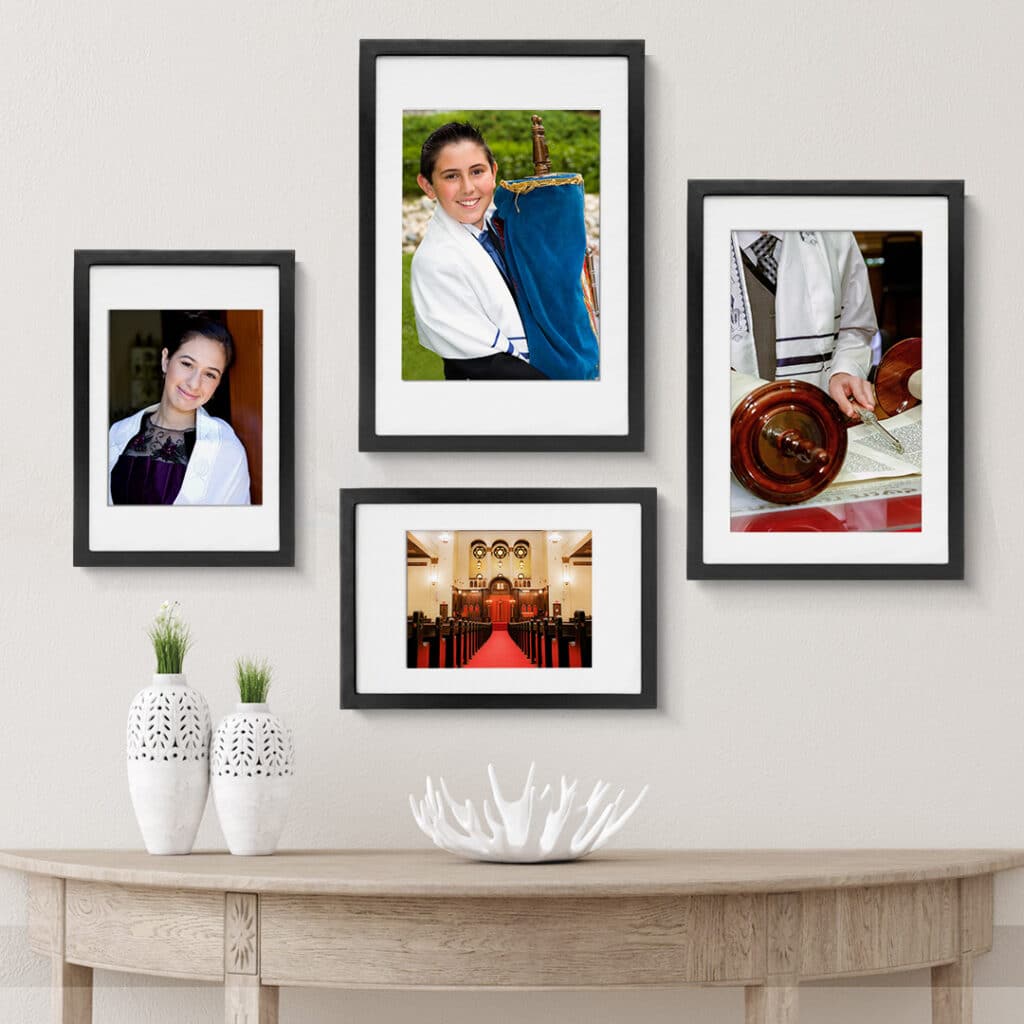 Not only will a customised and framed print look wonderful hanging on their wall or standing on a desk or table, but it makes for a great Bar + Bat Mitzvah gift for grandparents and other relatives.
More Gift Ideas…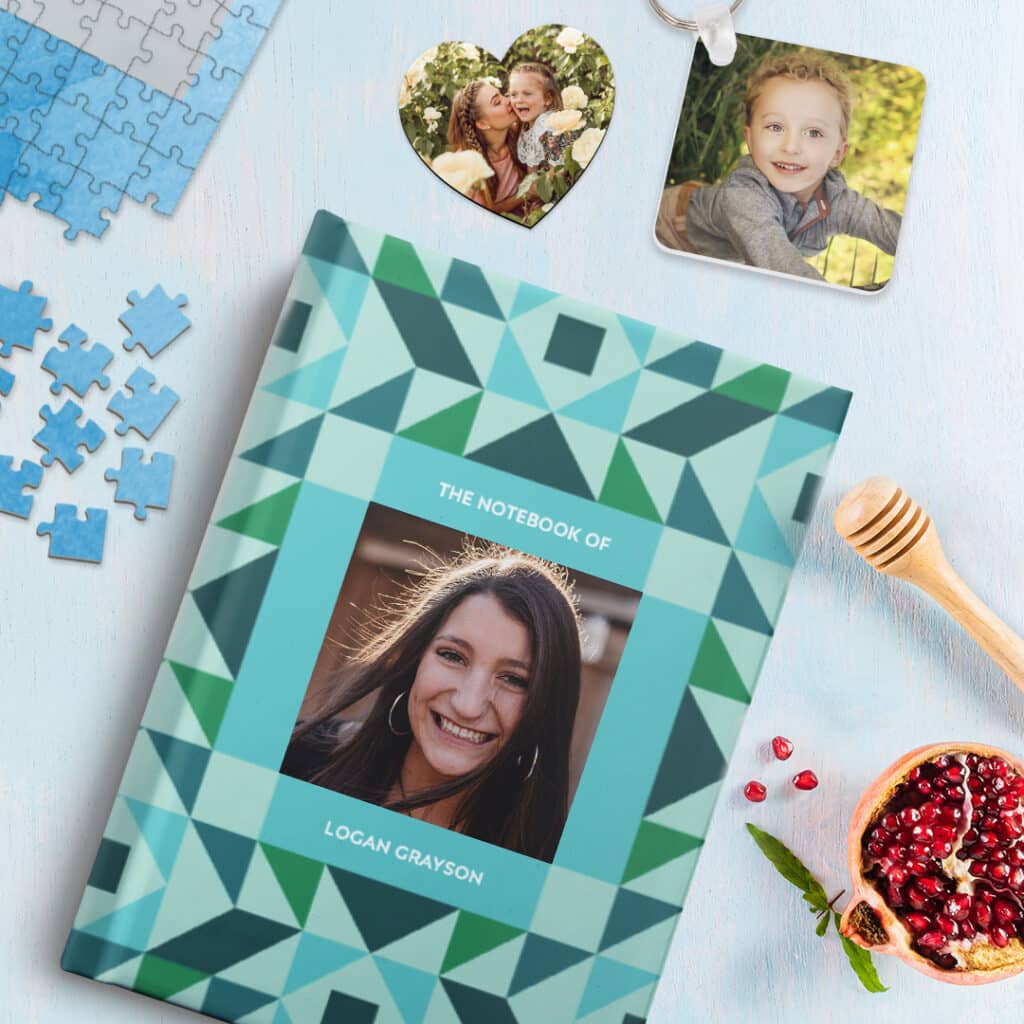 Consider personalising notebooks, keyrings, puzzles, souvenir tins and more with photos, an inspiring quote or message!
What did you end up writing in your invite?
Don't forget to tag your photo stories on Facebook, Instagram or Pinterest with @snapfishIE and #snapfishie. We love seeing what you create.