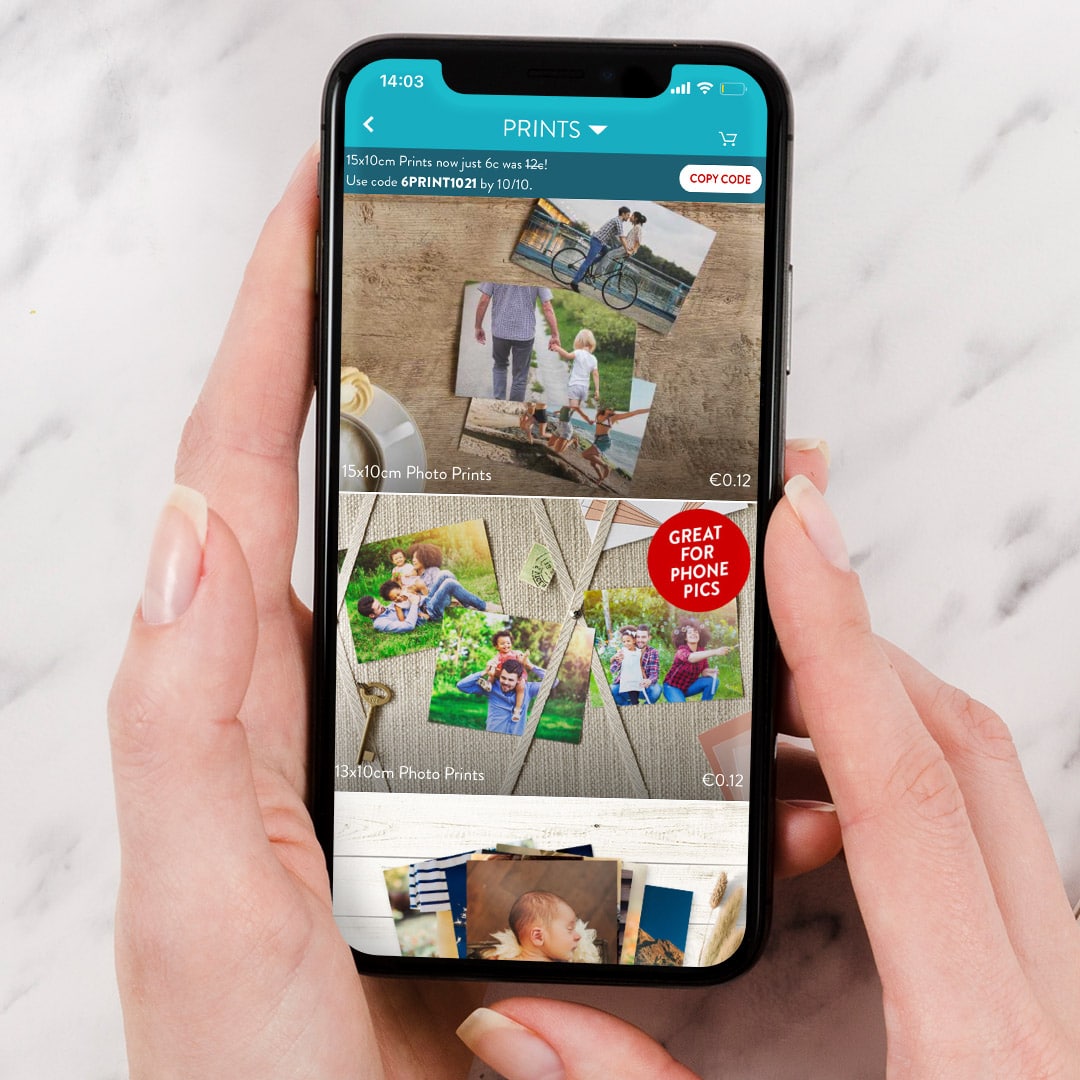 Whether you want to print out photos of your friends and family in various sizes, or get creative and order custom collage pictures or even photo booth strips, it's simpler than ever to order any type of high quality print, and you can now order them from your PC or mobile phone using our digital picture printing services.
Instead of searching for "photo printing near me" and visiting the High Street, Snapfish makes it easy for you to order photo prints online. No matter where you live in the Republic of Ireland, we will send your order directly to your house!
Read on and we will show you how to order your pictures, from selecting the perfect photo size and paper type, to customising canvas prints or photo tiles to proudly display on your wall at home.
Looking For Photo Printing Services Near Me?
These days, it can be hard finding a local photo shop where you can order prints ready for pick up in an hour. Finding photo printing shops nearby might mean driving out to the local retail park and even then, if the photo developers send the prints off to be processed, you might still have to wait days or even weeks for your photos.
That's why it's good to know that Snapfish has been printing family pictures since 2004. Our quick and easy online photo printing service means you can hold and enjoy physical versions of all your favourite photos without needing to leave the comfort of your front room!
Whether you're on the go and using your phone, or at home on your computer, you can upload photos quickly from your own camera roll or social media accounts straight into your free Snapfish account. The Snapfish photo printing solution offers a variety of sizes and types of prints so you can make sure your pictures look exactly how you want when they arrive at your door.
We even offer Priority Shipping for some of our products – just select the best delivery option for you that is shown in the cart.
How To Order Photo Prints Online
A photo print is much more than the picture you view on a screen — it's a memory that can be treasured and deserves to be physically held in your hands. With photo prints, you have endless options, from framing them for display, to sticking them into a photo album or customised scrapbook that you can look back on for years to come. Using the Snapfish photo printing service makes it easy to upload your best photos online and quickly turn favourite pictures into prints, cards and gifts that best reflect you and your taste.
Choosing Photo Print Sizes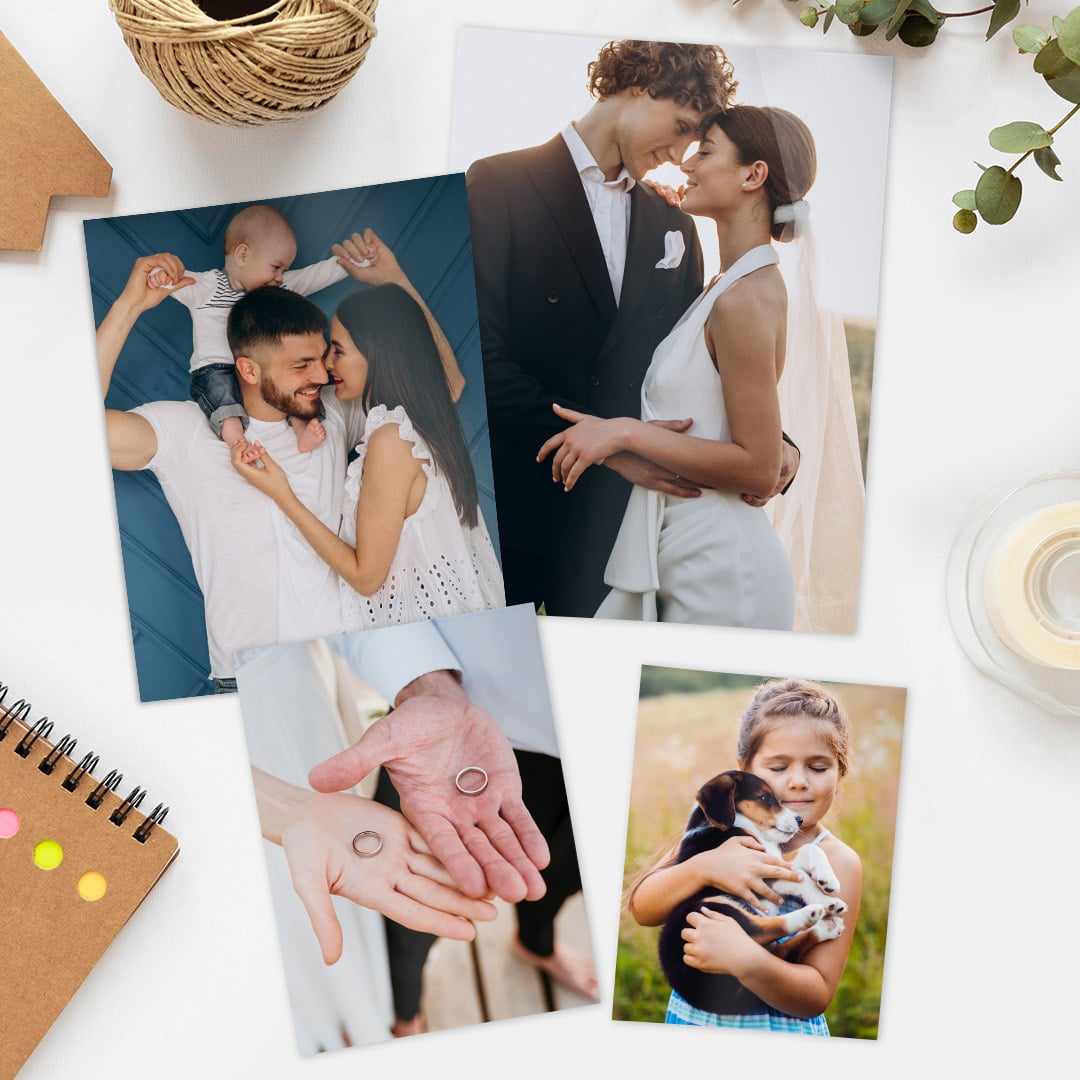 If you're going to print photos for a specific picture frame or album, ordering the correct size is vital. The Snapfish photo sizes range from larger print enlargements and personalised posters, to retro polaroid style prints, smaller wallet prints and passport photos that can fit right into your pocket, and cute mini square prints to showcase your Instagram pictures. Depending on your preferences or situation, you will find a printed picture format to meet your needs.
Snapfish's photo print sizes range from a small 6x4x6.4cm (2.5″) mini square print to keep in your wallet, to a more sizable 100x75cm (40×30″) poster print that can be used as wall art. Standard photo print sizes available to order are 10x15cm (6×4″), 18x13cm (7×5″), 20x15cm (8×6″), 25x20cm (10×8″) and 30x20cm (12×8″).
Personalising Your Photo Prints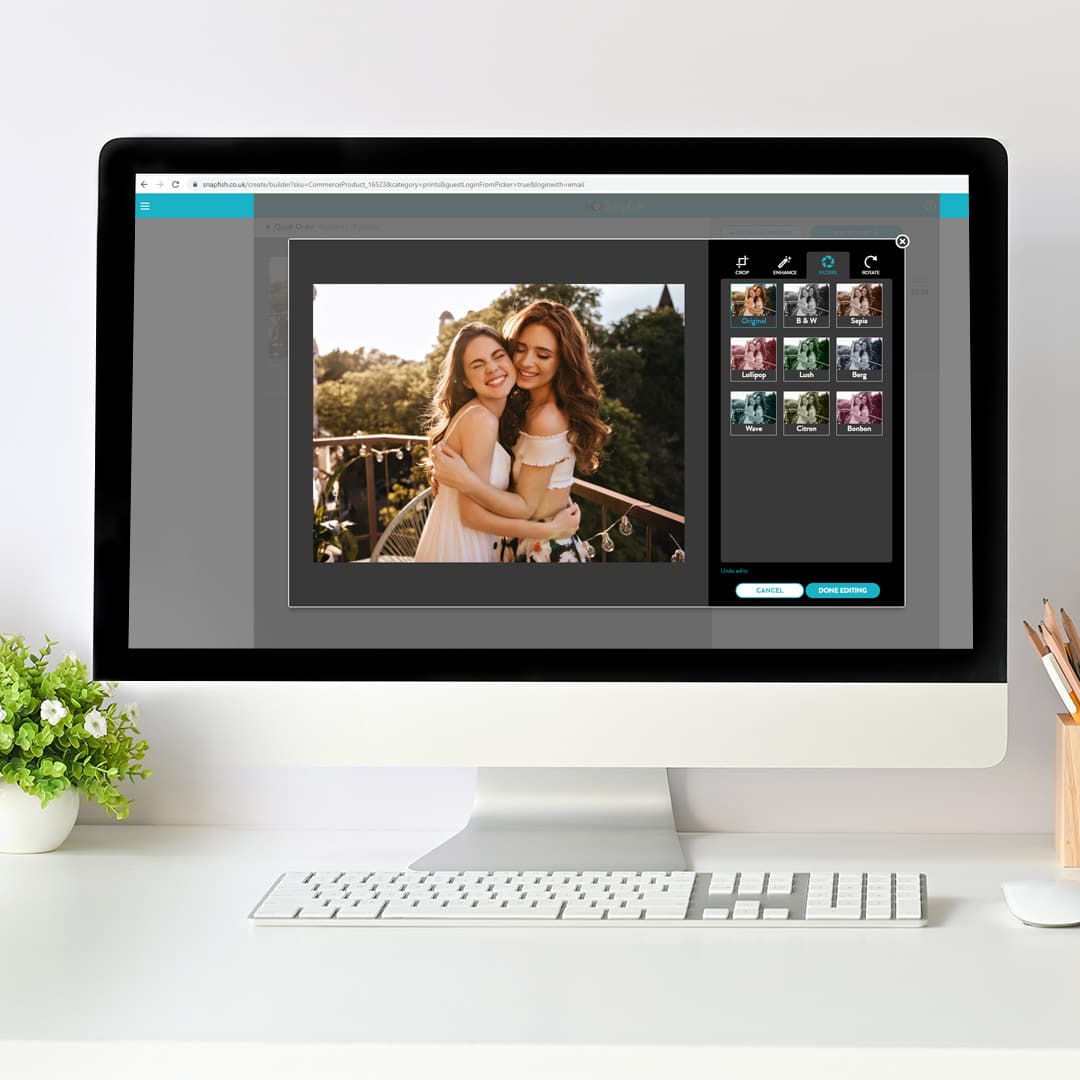 After selecting the correct size for your pictures, you can also customise them, to suit your needs. Choose matt or gloss photo paper to customise how your high-quality prints look across all picture sizes, and utilise our collage picture layouts for collage photo prints with text and background colours for unique pictures to share with loved ones. We also sell a range of speciality photo printing products such as collage prints, panoramic prints, wood block photo blocks which, alongside the 50 free photo prints from the app each month, could be a great option for your craft and scrapbooking projects.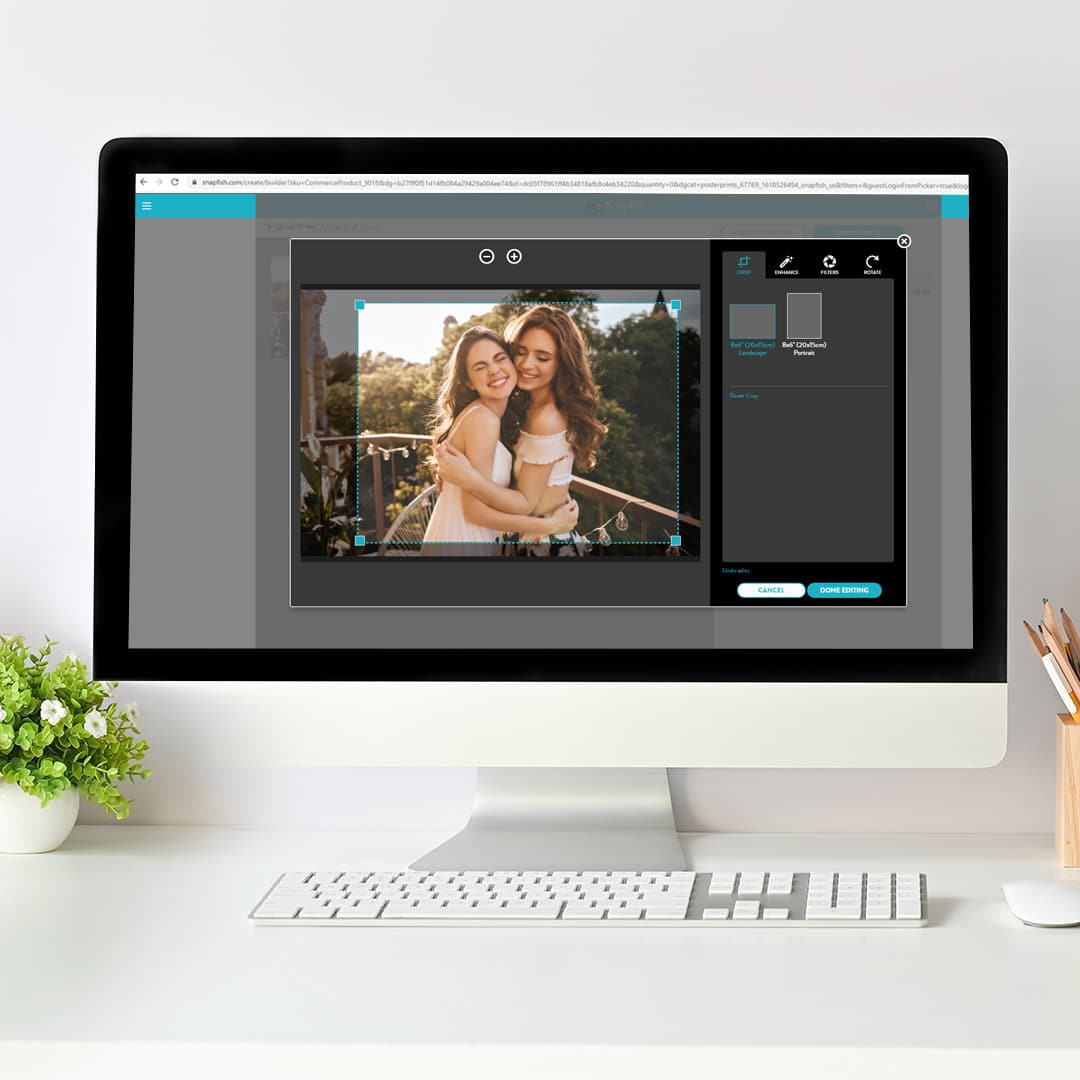 In addition, you're able to use Snapfish's editing tools to create a custom look for each of the photos you decide to print. For images that need a little extra editing, there is an auto-enhance feature and colour filter option to make your photos look more crisp and clear for printing, and a crop feature to keep your attention on the details in the shot. You can also use our image rotation feature to ensure the picture is best suited to the photo print orientation selected.
How To Order Canvas Prints Online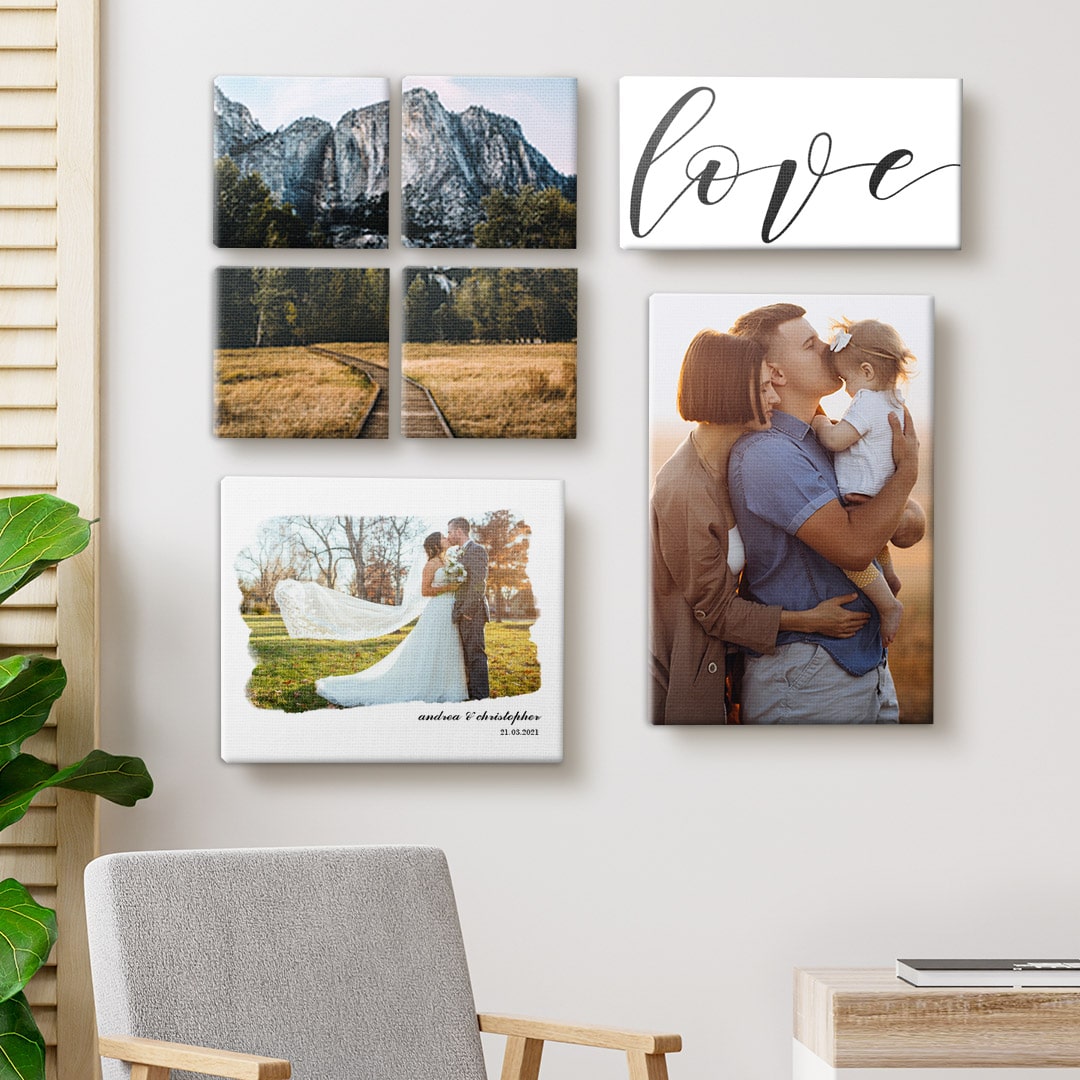 Customers often ask: "What are photo canvas prints?" and "Can I make one myself?" Personalised canvas prints from Snapfish bring a touch of glamour, drama, and allow you to showcase your personality. Whether you'd like a premium photo canvas print with a deeper profile (photo wrap or block colour options available), a more modern slim canvas print profile, a set of canvas photo prints to quickly fill a wall or even a dramatic split canvas feature for your gallery wall, you can create a stunning piece of decor that's sure to splash some "wow" onto your walls.
Canvas photo prints are a perfect way for showcasing favourite memories as unique pieces of wall art for yourself or as a special keepsake gift. With our online canvas customisation tools, you can create a custom canvas print that is one-of-a-kind and that becomes a treasured keepsake.
How To Personalise Pictures For Canvas Prints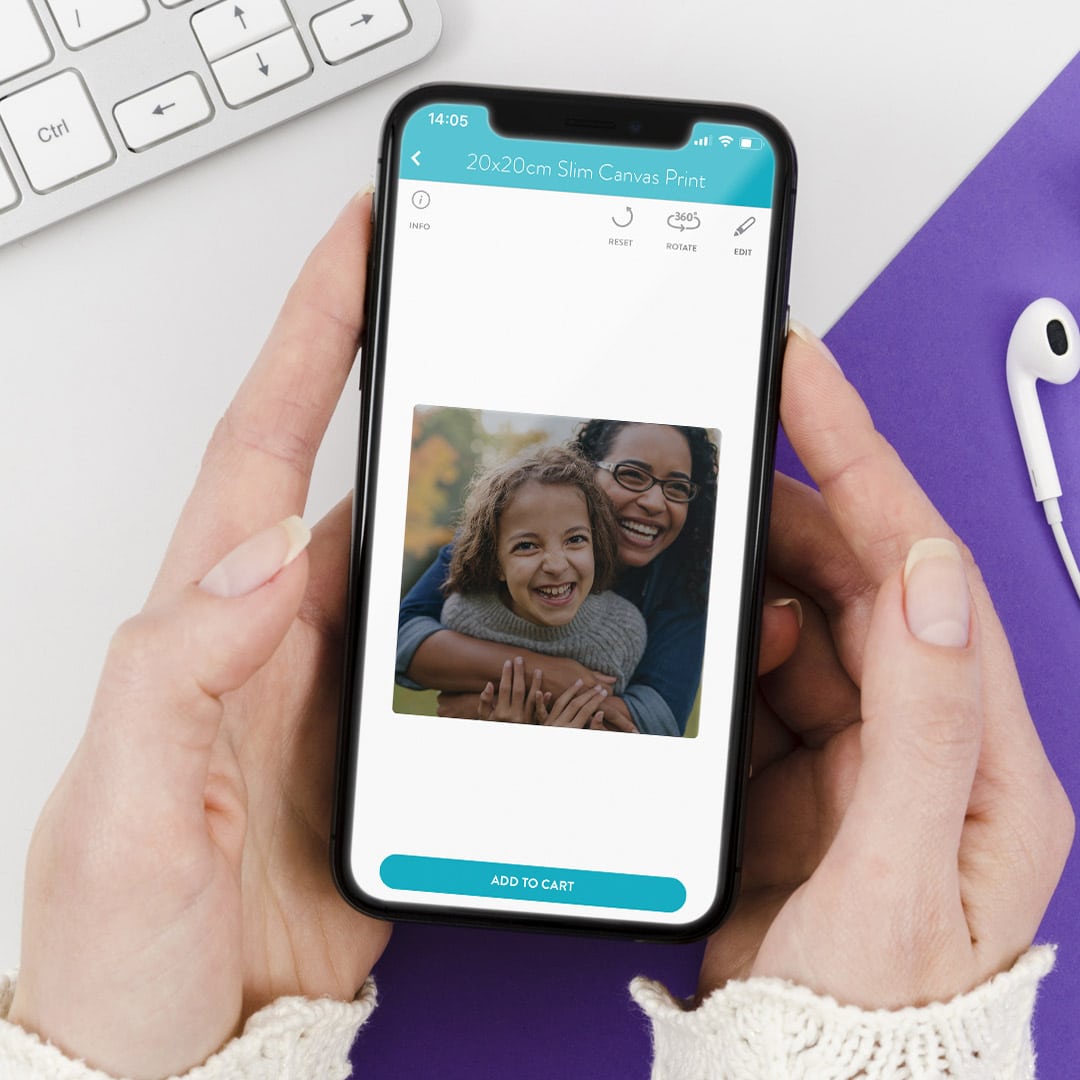 To make the perfect custom canvas prints, simply look through and choose from Snapfish's vast collection of templates. Whether you want to make a picture collage of a selection of your favourite memories, or if you choose one picture for your canvas print, you have many options. Just choose your images, upload your pictures into your free Snapfish photo account and begin designing your unique piece of wall art. It's so easy to personalise your own picture using our pre-defined layouts, background colours and text and then order it professionally printed on a canvas print.
How To Pick Your Ideal Canvas Print Size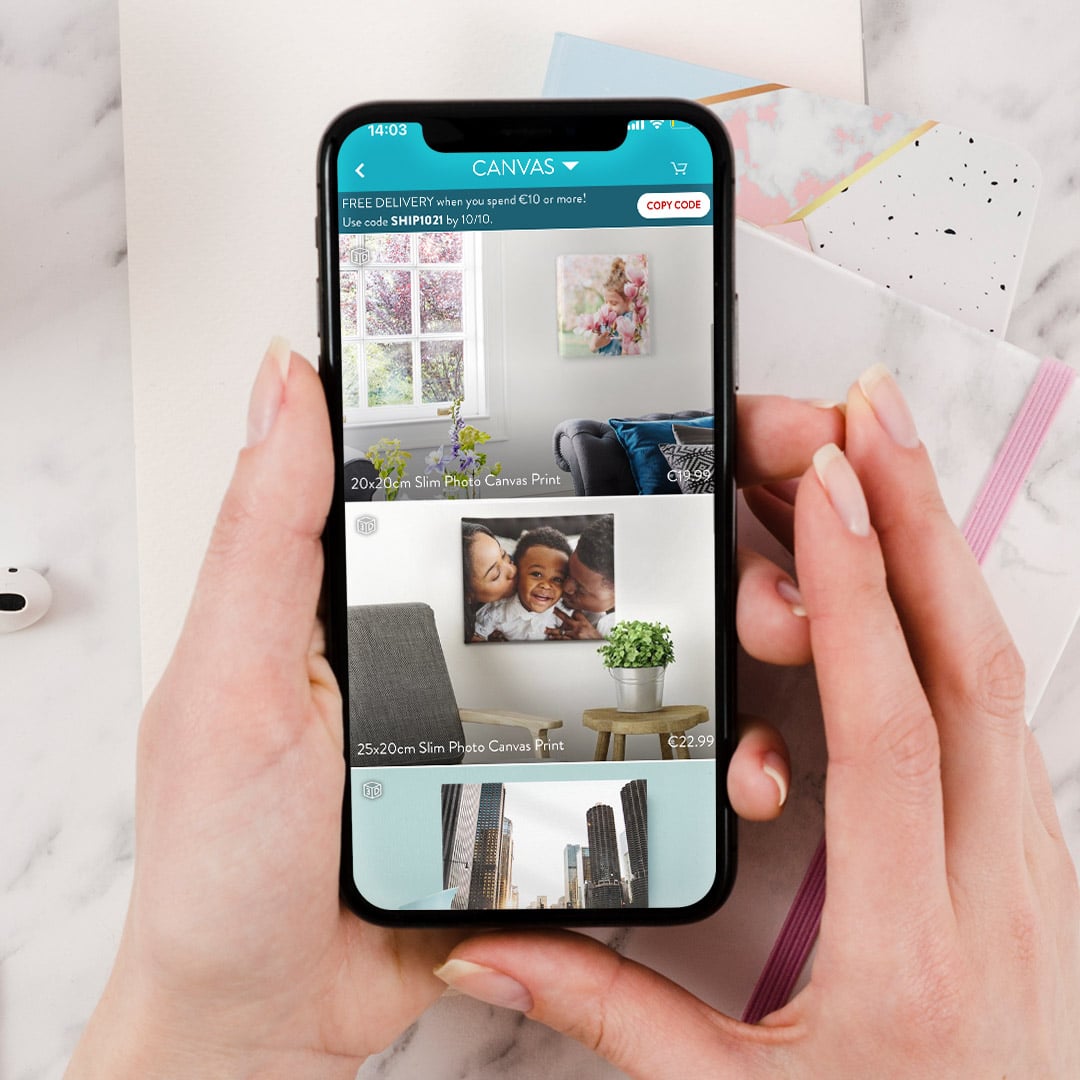 From small, simple single image canvas prints to statement collage canvas prints or larger panoramic canvas pictures, the only thing in your way to wall-worthy artwork is your imagination. Personalised canvas prints make great gallery wall features and will up your wall decor game.
Choose from many different canvas print sizes. You can print pictures that are perfect for the smaller 20x20cm (8×8″) size to the largest 75x75cm (30×30″) size canvas print. Our most popular standard sizes for printing pictures onto canvas are 20x30cm (8×12″), 40x50cm (16×20″), and 20x20cm (8×8″), but Snapfish also has a large selection of canvas sizes and formats to match your home style.
How To Upload Your Pictures To Print With Snapfish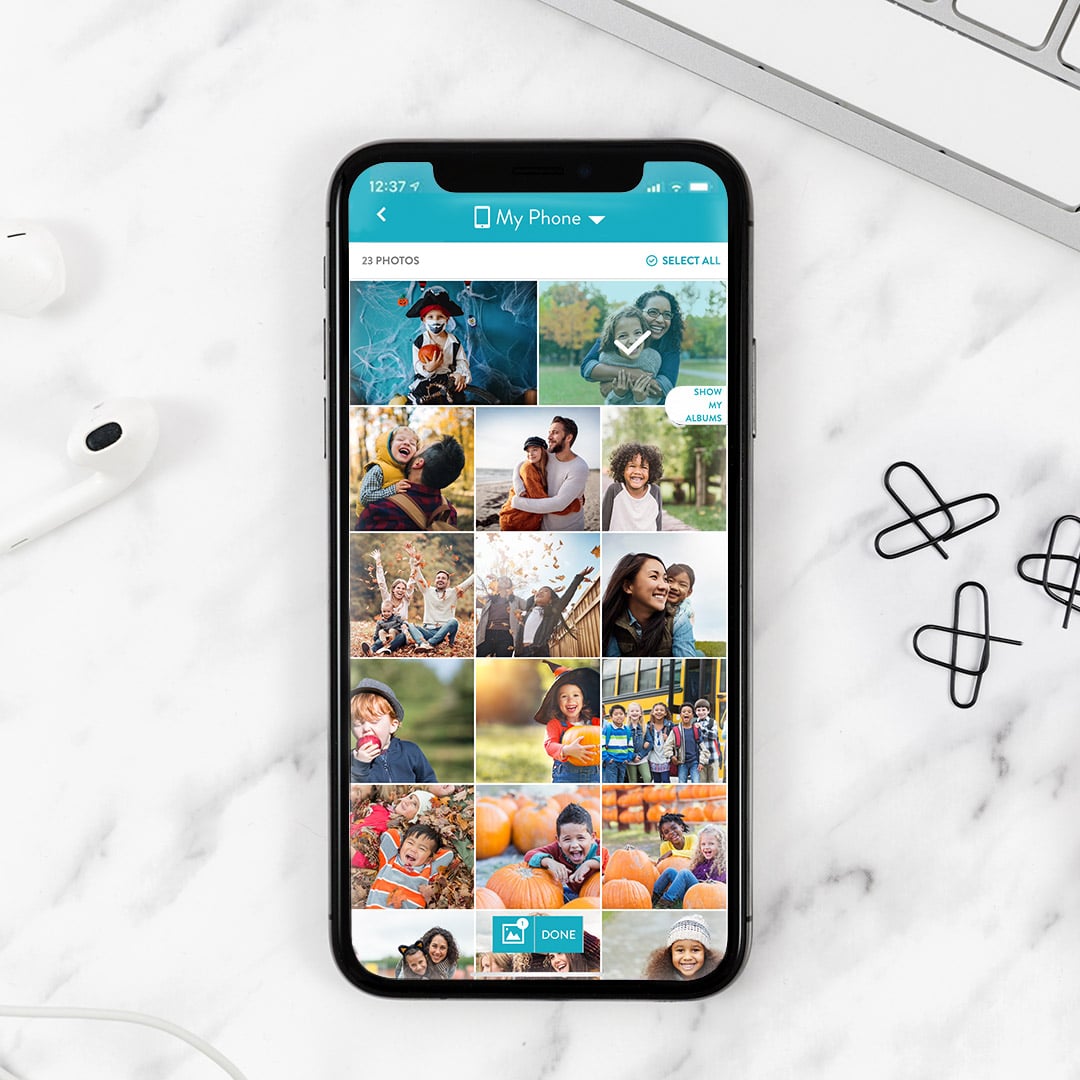 When it comes to uploading photos, there are plenty of options to choose from. You can upload your pictures using your desktop or mobile phone. Snapfish also allows you to view and share uploaded photos through its free photo app, any time, anywhere – for free! In addition you can also print photos uploaded into Snapfish from your Facebook, Instagram and Google Photos accounts as well. When looking for photo printing near me, it's easier to get it all done from the comfort of your home. Just follow the simple login steps for each of the different platforms and start creating your custom pictures and personalised wall art prints using the Snapfish app or website now.
As long as your account remains active, your pictures will never be deleted from your Snapfish photo account! Instead of deleting photos off your hard drive or mobile device to make more room, just upload and store your photos with Snapfish, so that the next time you order pictures online, it'll be a doddle.
Other Wall Art Options To Choose When Printing Pictures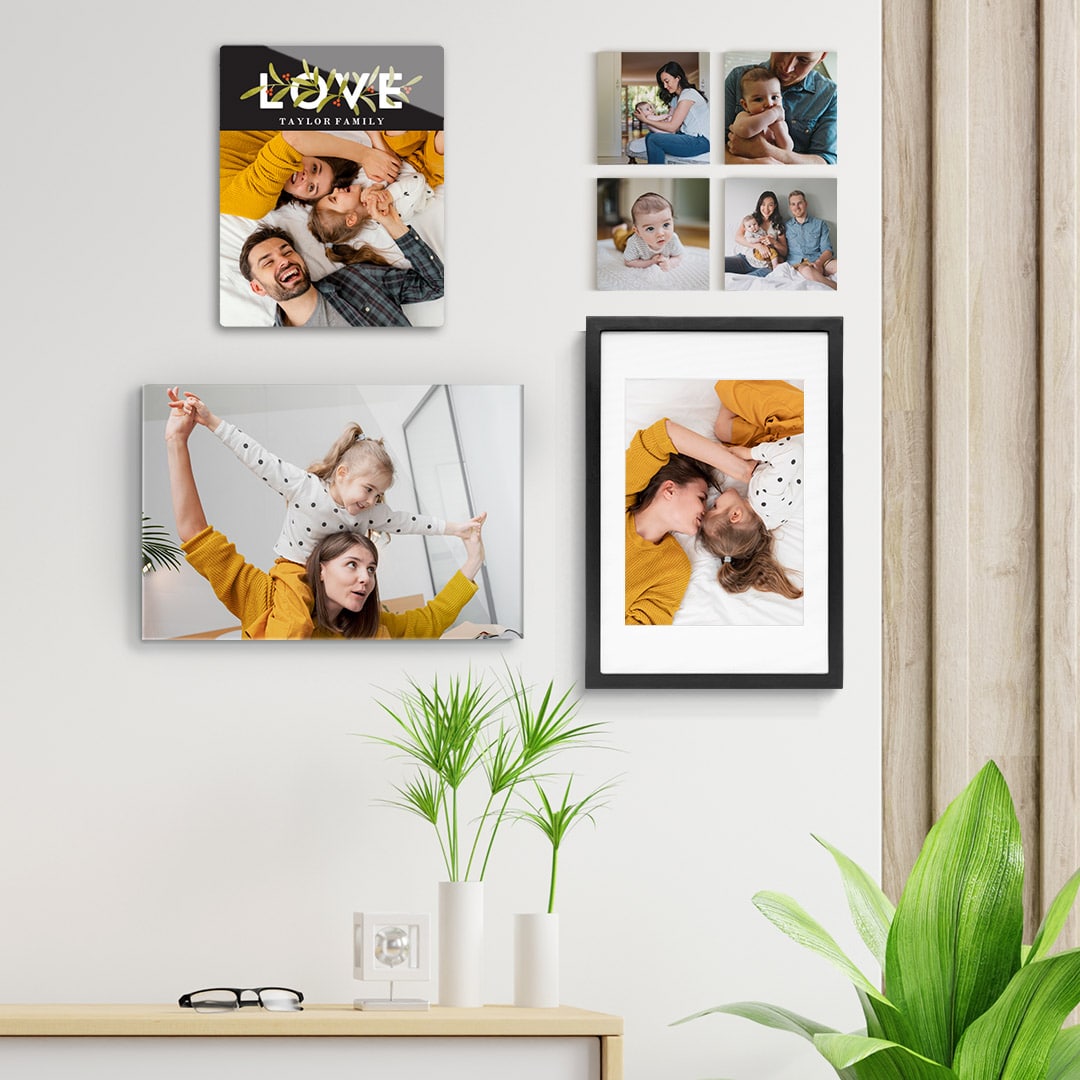 Acrylic Panels
Create a stunning work of wall art with our quarter-inch, crystal-clear photo acrylic wall panel prints. Chrome-finish hanging hardware floats your panel 1″ from the wall, for a chic modern, fade-resistant look and gives your pictures depth and brilliance.
Acrylic Photo Prints
The modern wall prints range from 15x10cm (6×4″) to 75x50cm (30×20″) for you to hang grouped together or alone as one statement piece
Wooden Photo Panels
Pictures printed onto a frame free MDF with a thin black border that makes your photos pop
Photo Tiles
Print pictures onto lightweight foam tiles. Photo Tiles have bevelled edges for a modern, clean design, and are delivered with self-adhesive tabs for easy hanging and repositioning. Order singly or in sets to create the gallery wall effect.
Metal Prints
Print pictures on 1.5mm thick aluminium coated metal panel, which are finished with subtle, smooth, rounded corners.
Poster Prints
Order single print or collage enlargements of your holiday snaps, wedding portraits, and special family moments. Available in 6+ sizes, with gloss or matt finish.
Framed Prints
Print your photos on thick matt paper in a 61x46cm (24×18″) black frame made from responsibly-sourced, FSC certified wood. Clear styrene glazing provides protection for your photo. Check out our new mounted framed prints with sizes ranging from 13x18cm (5×7)" to 50x76cm (20×30″).
How To Order Pictures With The Snapfish Photo App
Searching for photo printing near me? It's closer than you think! Using the Snapfish Photo App, you can order pictures directly and easily from your trusty mobile phone – anywhere in the world – even from your holidays! We've provided some step by step instructions for iPhone and Android devices to make the process even easier for you. Plus you can read our tips on how to use the app to claim your free monthly photo prints on the blog.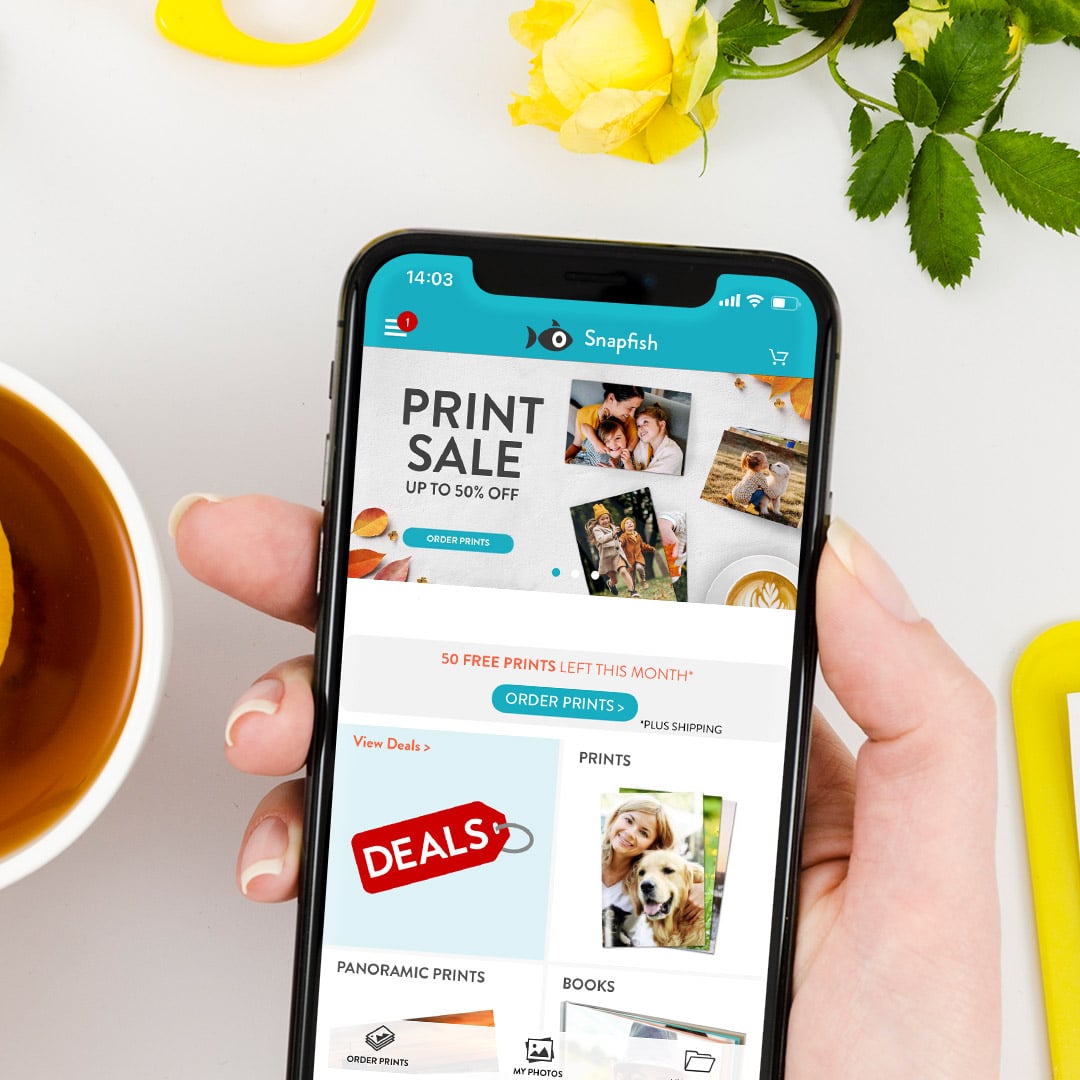 Step 1: Select your favourite pictures – either from your camera roll, social media account or Google Photos and upload to your Snapfish account
Step 2: Visit the Shop screen or select a product category from the top drop down
Step 3: Browse the available products to print your photo onto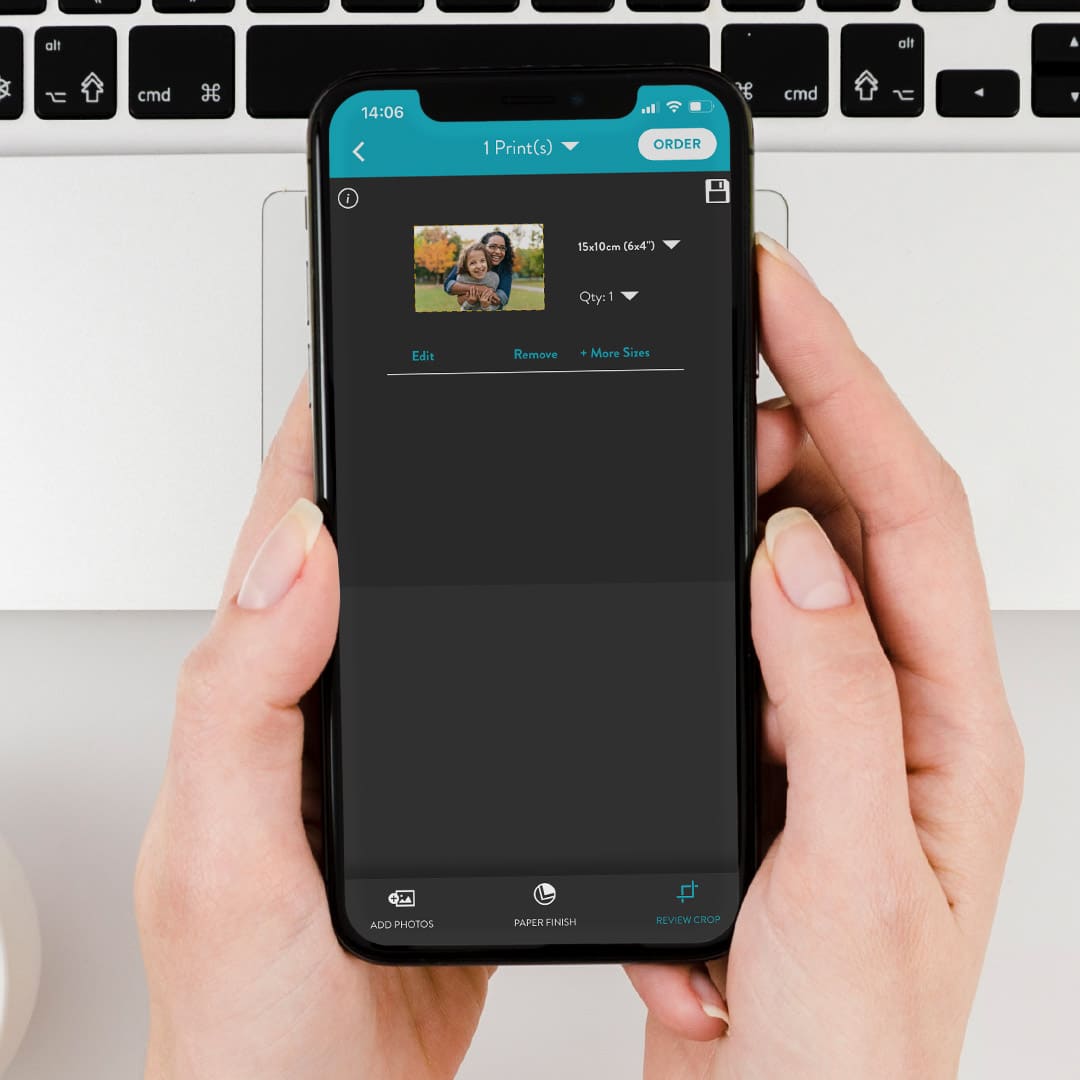 Step 4: Click on the product layout to adjust photo size, location and composition. To swap out the photo, click "+" at the bottom of the screen
Step 5: Review your order and quantity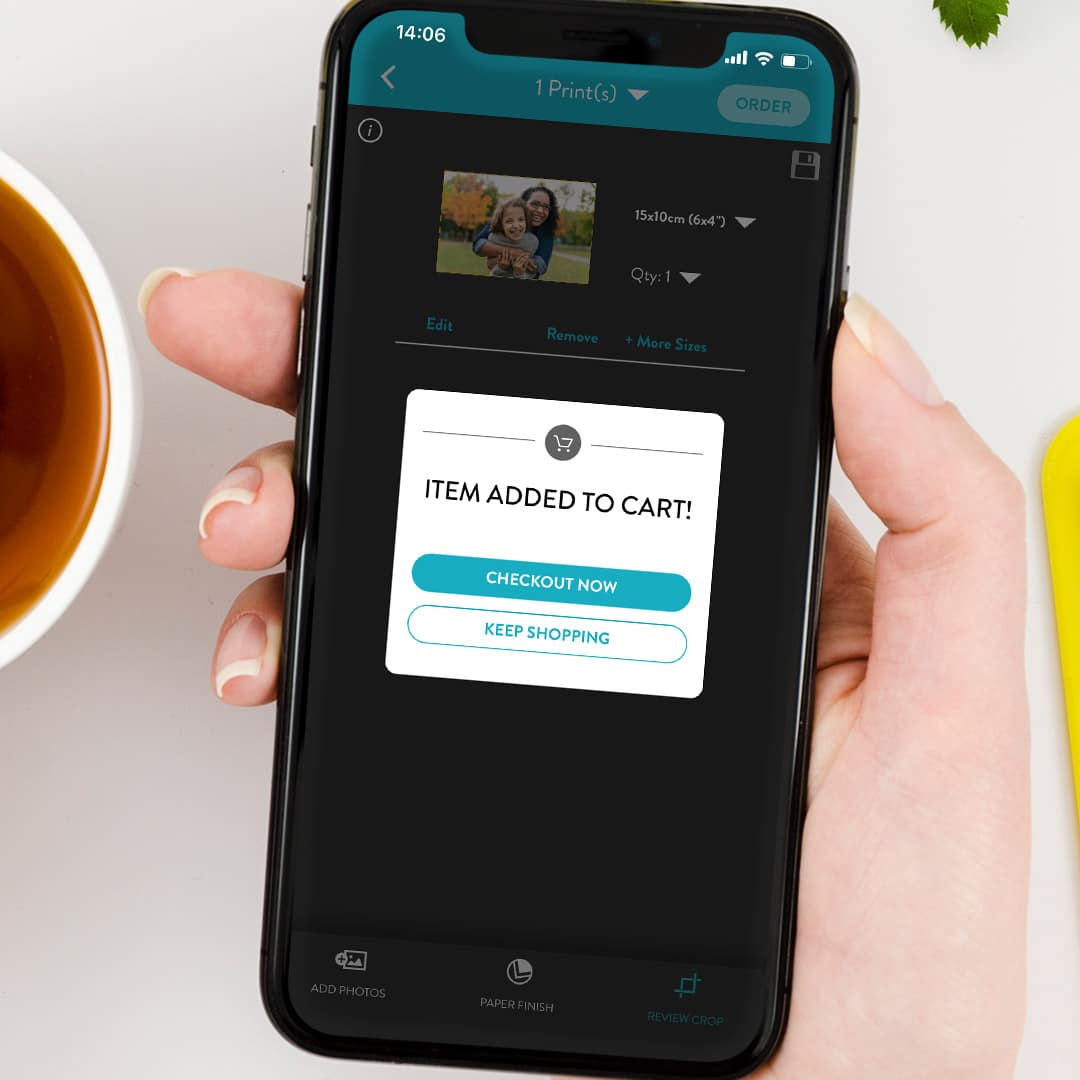 Step 6: Click "Add to Cart"
Step 7: Continue shopping or check out
You can order at any time of the day, and have your pictures delivered to you right at your doorstep with no hassle.
They say pictures speak a thousand words. Instead of searching high and low for photo printing near me options on your search engine, get it all done with Snapfish. Printing out your favourite photos to display in your home or to stick into photo albums can help you relive your best memories. Taking the time to move your pictures from digital media such as your cloud storage, mobile, tablet or desktop PC can give you tangible keepsakes to treasure for years to come and will help you stay organised, too.
What did you create? We'd love to see your photo creations. Please tag us using @snapfishie on Instagram or Facebook or use the hashtag #snapfishuk.