When it comes to nailing that birthday card message, we've got you covered with these tried-and-tested tips.
Keep it casual
For casual acquaintances, colleagues, neighbours and teachers, choose one of our chic and simple birthday card templates for your short yet sweet message.
"The day is all yours — have fun!"
"Wishing you the biggest slice of happy today!"
Shower them with compliments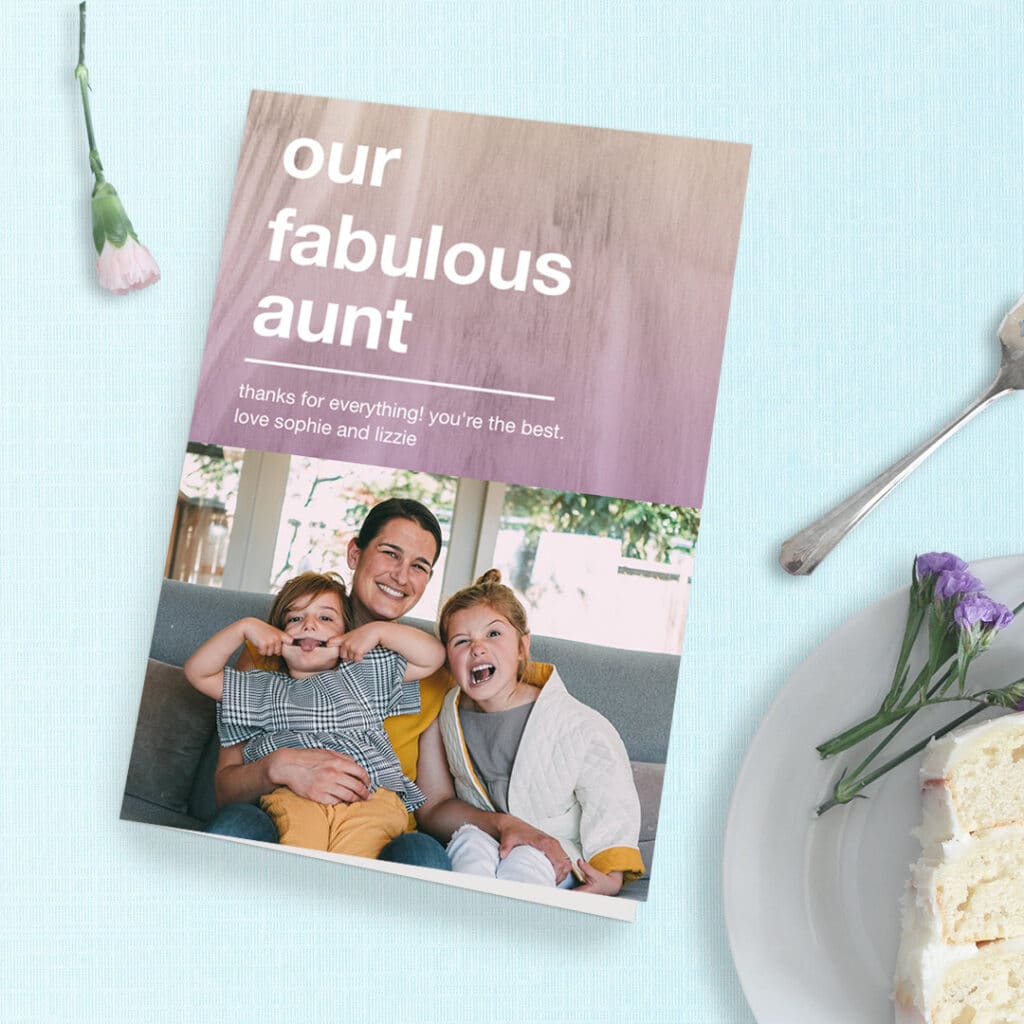 Make them feel great with a perfectly-crafted compliment and a favourite photo of them on their birthday card!
"On this day, a queen was born."
"You're just a whole year more incredible."
Get up close and personal
Highlight your shared past (in choosing the right photo) and specific character traits to create a genuine, one-of-a-kind birthday sentiment.
"Hope you know what a gift you are to the world (and to me)!"
"You do so much for so many people, so just let the world come to you today. Relax and enjoy!"
Humour them
The best thing you can do to take the edge off getting older is to make them laugh! (Picking a funny birthday card design helps, too!)
"Growing old is mandatory, but growing up is optional."
"I'm just here for the birthday cake."
Turn up the party vibes!
Set the tone with a birthday card template that screams, "Celebrate!", and a fave photo of fun times from the past.
"Time to drink champagne and dance on the tables!"
"The party doesn't start 'til you walk in!"
Sprinkle it with inspiration
Choose from several stylish and thoughtful designs, then pair with a collage of amazing captured moments together.
"We turn not older with years, but newer every day." — Emily Dickinson
"And in the end, it's not the years in your life that count. It's the life in your years." — Abraham Lincoln
Whatever you create, the personal & heartfelt birthday message is always appreciated and is something they will treasure forever. You can go the extra mile if you pair your personalised birthday card with a custom photo gift. Check out our personalised birthday gifts page for inspiration.
Don't forget to tag your photo stories on Facebook, Instagram or Pinterest with @snapfishIE and #snapfishie. We love seeing what you create.